Hurricane Matthew kills 10 in US, floods Carolinas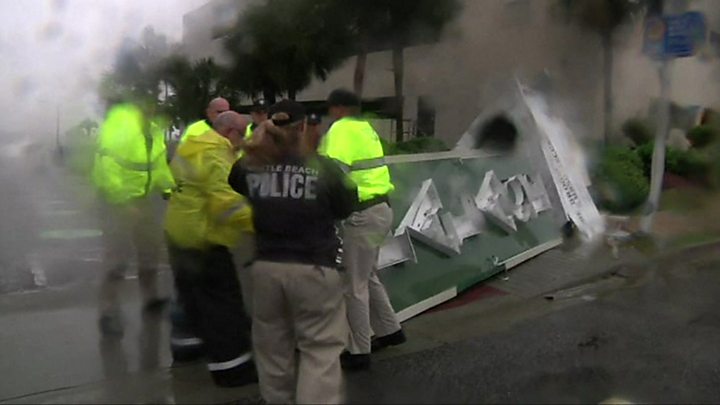 Hurricane Matthew has killed at least 10 people in the US as it is moving along the country's south-east coast.
Three people died in North Carolina, said Governor Pat McCrory, who called Matthew "a very, very serious" storm.
In Georgia, three people died, including a wheelchair user after two trees fell on his home. Four people were earlier killed in Florida.
Matthew has been the most powerful storm to make US landfall in more than a decade.
Thousands of people have been evacuated from their homes, and more than a million left without power.
The storm also brought heavy flooding to the historic city of Charleston, South Carolina.
Matthew has already caused nearly 900 deaths in Haiti and four in the Dominican Republic as it travelled northwards over the past few days.
'Storm hunter' pilot flies into storm's eye
Hurricane Matthew in Haiti: In pictures
How are Haiti and Florida coping?
The US National Hurricane Center (NHC) has downgraded Matthew to a Category One hurricane, with maximum sustained winds having decreased to 75mph (120km/h).
South Carolina Governor Nikki Haley warned people to stay in shelters and not to try to go back home over the weekend.
"Between downed power lines and trees, and then just unsafe structures - bridges, all of those things.
Officials said emergency responders have carried out multiple water rescues from cars and homes.
The NHC said: "The combination of a dangerous storm surge, the tide, and large and destructive waves will cause normally dry areas near the coast to be flooded by rising waters moving inland from the shoreline."
Nearly 1.6m homes and businesses in the south-east of the US were left without power.
Hurricane Matthew first made landfall in in the US in South Carolina but its edges had previously battered the coasts of Florida and Georgia.
The World Meteorological Organisation (WMO), which is the UN's weather agency, had warned that the hurricane would remain dangerous regardless of whether or not it made landfall in the US.
Parts of the city of Savannah, Georgia have been submerged in several feet (one foot = 30cm) of water.
Hurricane Matthew left up to 90% of some parts of Haiti destroyed, officials say.
---
Have you been affected by Hurricane Matthew? If it is safe to do so, you can share your experience by emailing haveyoursay@bbc.co.uk.
Please include a contact number if you are willing to speak to a BBC journalist. You can also contact us in the following ways: