US air force base leaks toxic chemicals into sewer system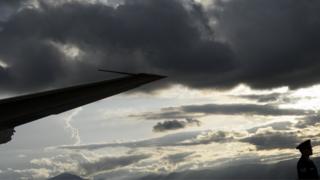 An air base in the US state of Colorado says it has accidentally released 150,000 gallons of toxic contaminated water into the sewer system of the nearby city of Colorado Springs.
Peterson Air Force base said the water contained perfluorinated compounds or PFCs, a component of firefighting foam.
It did not say how high the levels of chemicals were.
A spokesman said the spillage did not affect the city's drinking water supply but was discharged into a creek.
The air force said the tainted water was released from a storage tank sometime in the past week. The cause of the leaks and the risks to local communities was being investigated.
The tainted water passed through a wastewater treatment plant that was however not set up to remove PFCs, so they were still in the water when it was discharged into Fountain Creek, spokesman Steve Berry said.
PFCs have been linked to prostate, kidney and testicular cancer, along with other illnesses.
Peterson base is also being investigated as the likely source of PFC contamination found in well water in two other nearby communities.