Why the Canada-EU trade saga is far from over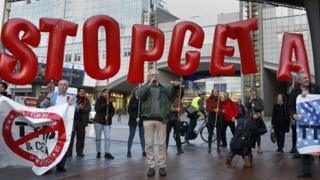 The Canada-EU trade deal was never supposed to be controversial. So why might it crumble?
The Comprehensive Economic and Trade Agreement (Ceta) was a lauded as a "progressive" and "gold-standard" deal between long-time allies and highly developed trading partners.
Now people on both sides of the debate agree on one thing: Ceta has been caught in the crossfire of a much larger dispute.
A controversial investment provision contained in the once-obscure deal may prove to be its biggest stumbling block.
'Cool' Canada
Opposition to Ceta began quietly in Canada, long before the regional Wallonian parliament in Belgium nearly sank the deal in a cliff-hanger political showdown in October.
Veteran activist Maude Barlow, from the Council of Canadians, had been trying to stir up debate about the agreement for years with little success. She met the same resistance in Europe.
"Europeans kind of think Canada is cool and didn't see any threats coming from Canada," she says. "Ceta wasn't on their radar."
That changed in 2013, when the EU and the United States announced they would begin negotiations on their own trade deal, the proposed Transatlantic Trade and Investment Partnership (TTIP).
An organised campaign against TTIP helped fuel a broader public backlash against the EU-US deal.
Ms Barlow's talks in Europe against the Canada-EU deal helped social justice groups hitch Ceta to a debate that was turning politically toxic.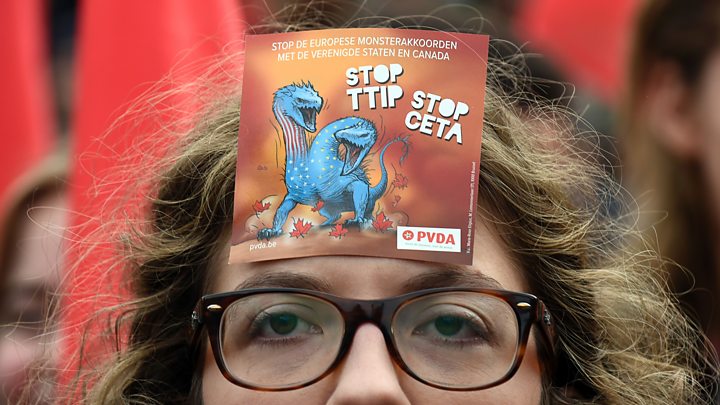 'This is political'
One online petition opposing Ceta and TTIP gathered 3.5 million signatures. In September, tens of thousands of people protested in seven German cities against the trade deals.
Chief among the grievances was a fear the deals gave too much power to corporations through the Investor-State Dispute Settlement (ISDS) mechanism.
Ms Barlow says Ceta "suddenly has become a flashpoint for who's in control in Europe."
"This isn't about the economics of Ceta," she says. "This is political."
'We're getting a lot of pushback'
Ed Fast was international trade minister in Canada's former conservative government, and spent four years at the negotiating table with his European counterparts.
He admits they were caught off guard by the opposition.
"If we knew back in 2011, 2012, 2013 what we know now, what we might have done is make a very clear delinking" between Ceta and TTIP, he told the BBC.
"We've gotten caught in that crossfire."
He fears that as a result, the deal is not being judged on its merits.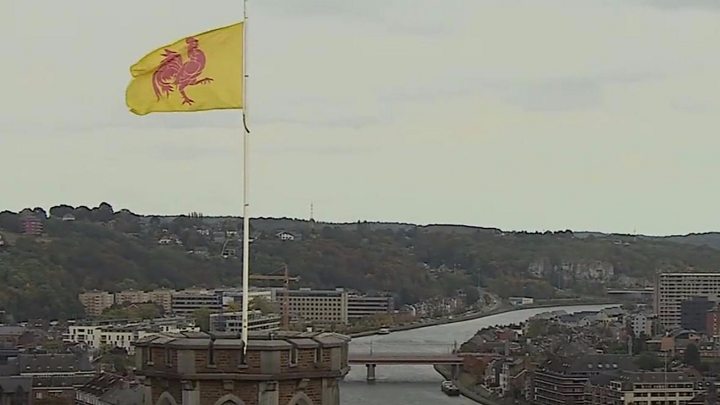 The political climate had also changed in the seven years it took to negotiate Ceta.
In the wake of the 2008 financial meltdown and subsequent austerity measures, the political winds began to turn against globalisation and trade, including a rise of protectionist politics in Europe and the US.
'Most divisive debate imaginable'
Guy Taylor, a Ceta opponent from UK-based civil society group Global Justice Now, says that while the political left has driven much of the resistance to trade deals in Europe, so did "the populist far right".
"Everyone from Donald Trump to Nigel Farage. They're against these deals as well," Taylor says. "It's a rejection of mainstream politics".
Randall Hansen, director of the Centre for European, Russian, and Eurasian Studies at Toronto's Munk School of Global Affairs, compares the European debate over Ceta - quiet in Canada but discordant in Europe - to the tumult around the 1994 North American Free Trade Agreement (Nafta).
"That was a yawn for the Americans and it was the most divisive debate imaginable in this country," he said.
Ceta has become part of a debate, he says, over "globalisation, American led neo-liberalism, the belief that that's destructive of jobs, and a deep strain of anti-Americanism."
Mr Taylor maintains opposition is not anti-American but something more fundamental.
"Our message is that this isn't between two trading blocks, this is actually a case of corporate power versus people power," he says.
Mr Taylor and his civil society colleagues are now focusing on other ways to derail the agreement, which was signed 30 October in Brussels.
They plan to apply pressure on the politicians in the EU's 28 member states, as well as a number of regional governments, who still need to vote on Ceta for it to come fully into effect.
"A lot of media are calling it a done and dusted deal and it's far from that." says Mr Taylor.
---
What is the ISDS mechanism?
The Investor-State Dispute Settlement (ISDS) is a mechanism designed to protect foreign investors from discrimination or unfair treatment by governments.
It allows an investor to sue a foreign government and has been included in many trade and investment agreements since the 1960s, including Nafta.
The EU's member states have signed some 1,400 such agreements with many countries around the world in the past few decades.
ISDS relies on arbitration rather than national courts.
What is the case for an ISDS mechanism?
Proponents argue it is necessary to protect foreign investors from government discrimination or unfair treatment, which in turn creates a more stable environment for investment.
They say that even countries with strong legal systems are not always equipped to handle specific complaints and that domestic laws do not always protect foreign investors.
Why is it controversial?
Opponents argue the ISDS mechanism gives corporations too much power over states and can be used to challenge environmental, health and safety standards.
They also argue the arbitration lacks transparency, and that organisations environmental groups and NGOs are unable to make submissions to the tribunal.
How are Ceta's ISDS rules different from those in previous agreements?
Canada and the EU say improvements to the ISDS system would include a new Investment Court System (ICS) into Ceta, a court-like system with the possibility for appeal.
Revisions made in February include creating a binding code of conduct for tribunal members to ensure their independence, making hearings open to the public and documentation available online, and allowing groups like trade unions and environmental groups to make submissions.
Critics argue the revised mechanism still affords special access to corporations. If firms win or settle, it can cost a government, and - by extension taxpayers - millions of dollars.
What's next for Ceta?
The ICS requires the backing of all member state national governments before it is enacted.
That contentious part of the accord faces an uncertain future.
Under the recent agreement hammered out between Belgium and the regional government of Wallonia, Belgium will ask for an opinion from the European Court of Justice within a year on whether the ICS is compatible with European law.
---
Are you wondering what CETA means for you or how the issues raised in this story affects your community? Send us your questions by emailing haveyoursay@bbc.co.uk.
Please include a contact number if you are willing to speak to a BBC journalist. You can also contact us in the following ways: