New York police investigate Russian consulate death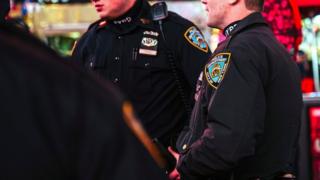 The New York police department is investigating after a man was found dead outside the Russian consulate in New York with trauma to the head.
Police say the man, 63, was unconscious when they arrived on Tuesday morning.
He was later pronounced dead at the scene. Medical examiners will conduct an autopsy to determine the cause of death.
Russian consular staff told the BBC the man was a consular employee and he had died of "a heart attack".
The identity of the man has not yet been released.
The staff member said consular officials had found the body at around 07:00 EST (11:00 GMT) and called New York police.
The consulate said the cause of the head trauma was still unknown and they would not release further details while the case was under investigation.