US Election: Women mark the chance to vote for a woman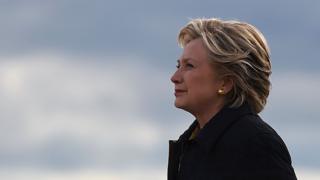 Forty-three people have served as President of the United States - all of them men. But in 2016, there's a chance a woman will be President.
And across the United States, women supporting Clinton have been marking this moment as well as paying homage to the pioneers who made it possible.
Susan B Anthony was one such pioneer.
Together with Elizabeth Cady Stanton, she founded the National Woman Suffrage Association in 1869. Three years later, she was fined for illegally voting in the presidential election.
She died before the 19th Amendment granted American women the right to vote. More than a century on from her death, people have been flocking to her grave in Rochester, NY, to place their "I Voted" stickers and other tributes by her headstone.
Visitors have also been leaving tokens at the grave of Ida B Wells, an African-American journalist and activist who was an active crusader for African-American women's voting rights. Those who couldn't make it to her grave in Cook County, Illinous have been leaving notes on her virtual grave.
In a further nod to the suffrage movement, which helped win American women the vote in 1920, many of Hillary Clinton's supporters have been heading to the polls dressed in white - and sharing images of themselves on social media.
White was an official colour of the women's movement. In the early 20th Century, campaigners for women's suffrage were encouraged to wear white on marches.
Gabi Bisconti is 22 and lives in New Jersey. She wore white when casting her ballot for Hillary Clinton.
"Voting for the first female President feels like a dream," she told the BBC.
"It still doesn't feel real to me yet because only a few weeks ago we were seeing certain people tweeting #Repealthe19th."
"Honestly, I cried.
"We have truly come so far, and we have a long way to go.
"I chose white to vote today because white was what the suffragettes wore to campaign and I wanted to dedicate my vote to the brave women (and men too) that fought so hard for this opportunity that I have today.
"Women like Susan B. Anthony, Elizabeth Cady Stanton and Ida B Wells were all a crucial part of this movement through time.
"They deserve all the recognition that they can get and it feels incredible to dedicate my vote to their memory.
"I am extremely proud of the States for kind of catching up to the rest of the first world and I happily and proudly voted for Hillary Clinton today."
Produced by Chris Bell, BBC UGC and Social News team