Thanksgiving traffic jam in Los Angeles is 'most epic'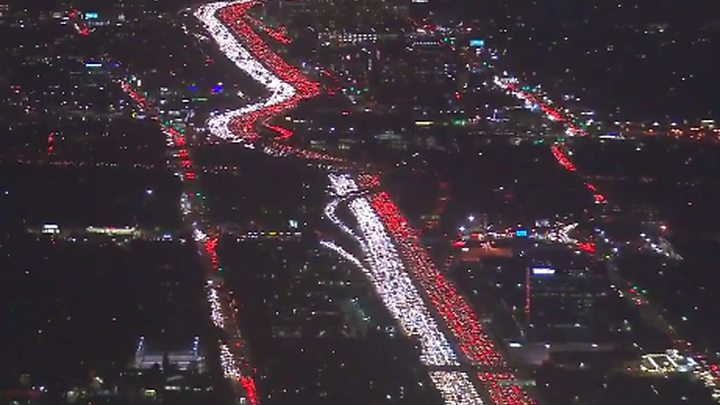 Aerial footage has gone viral of a massive traffic jam, captured during the great Thanksgiving getaway in southern California.
A news helicopter filmed the miles-long gridlock on the 405 motorway in the Los Angeles area on Tuesday.
"It's called the 405 for a reason: It takes you '4 o' 5' hours to get anywhere," one Facebook user quipped.
Almost 49 million people are expected to travel at least 50 miles for Thursday's turkey feast holiday.
That's a million more than last year, and the most since 2007, according to the American Automobile Association.
Some social media users said it looked like the 405 interstate - which is no stranger to congestion - had been decorated with Christmas lights.
Another called the gridlock "the Most Epic Mannequin Challenge EVER!"
Thanksgiving dates back to the Pilgrims' 17th Century arrival in Plymouth, Massachusetts, where they dined with the Native-Americans at the first holiday meal.