Ohio attack: Possible terror link being investigated, say police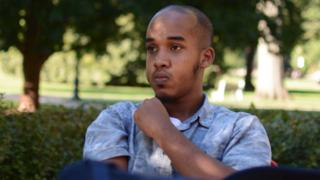 Police are investigating whether an attack at Ohio State University which left 11 injured was an act of terror.
Abdul Razak Ali Artan, 18, rammed his car into a group of pedestrians at the college and then began stabbing people before police shot him dead on Monday.
The student's motive is still not known, but terrorism is a possibility, police chief Kim Jacobs said.
However, Artan was not previously known to the authorities, an anonymous source told the Associated Press.
'Purposeful intent'
Conflicting reports have begun to emerge surrounding Artan's character.
Student journalist Kevin Stankiewicz interviewed him on his first day on campus and said "he did not seem angry", and was more worried about intimidating others.
But US media have claimed Artan may have posted a rage-filled rant to Facebook shortly before the attack took place.
An officer involved in the investigation told NBC a post appeared on a Facebook page believed to belong to Artan saying "I can't take it anymore" and referencing "lone wolf attacks" and al-Qaeda cleric Anwar al-Awlaki.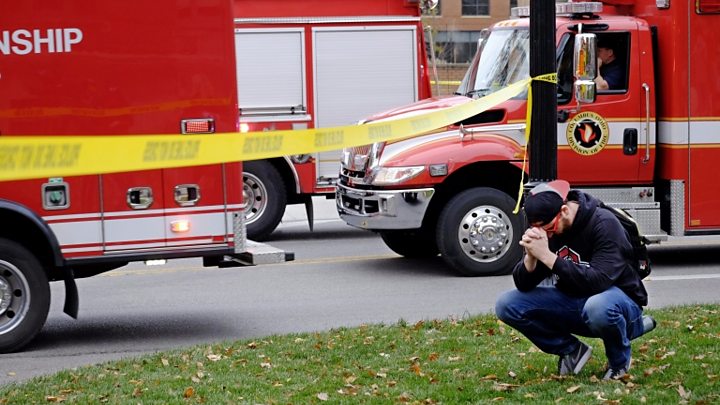 The post continued: "America! Stop interfering with other countries, especially Muslim Ummah [community]. We are not weak."
But a post from two hours earlier is reported to have read: "Forgive and forget. Love."
The page has since been disabled, according to AFP.
Asked whether it was a terrorist act, Police Chief Jacobs told reporters: "I think we have to consider that it is."
She added: "Obviously with the purposeful intent that was noticed - driving on the sidewalk - we're going look at it from the potential that it was planned."
The FBI have joined the inquiry at the 60,000-student campus in Columbus.
Artan, said to be a Somali refugee who was living in the US as a legal permanent resident, studied logistics management in the college of Business at Ohio State, reports the Columbus Dispatch.
---
'I was kind of scared'
Abdul Razak Ali Artan revealed he was scared of praying in public because of "everything going on in the media" just three months before his death.
Artan gave an interview to university newspaper The Lantern on his first day at Ohio State on 23 August, telling reporter Kevin Stankiewicz he was concerned about fellow students reaction.
"I wanted to pray in the open, but I was scared with everything going on in the media," he said. "I'm a Muslim, it's not what the media portrays me to be. If people look at me, a Muslim praying, I don't know what they're going to think, what's going to happen.
"But, I don't blame them. It's the media that put that picture in their heads so they're just going to have it and it, it's going to make them feel uncomfortable."
---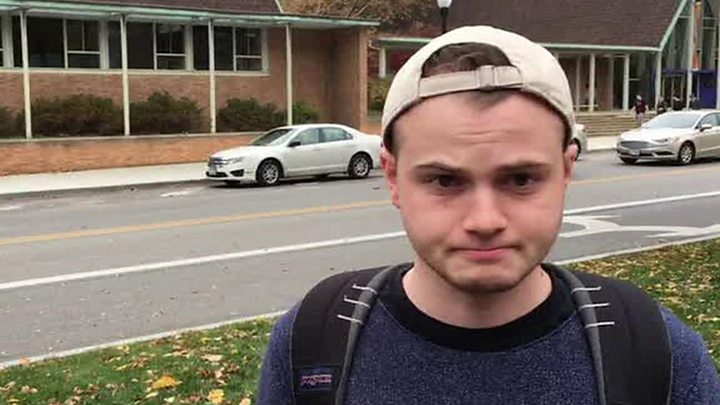 The incident began at 10:00 local time on Monday when a vehicle jumped the kerb at the campus, striking pedestrians near Watts Hall, the science and engineering building.
Ohio State Police Chief Craig Stone said the driver got out of the vehicle and began stabbing bystanders with a "butcher's knife".
A policeman who was nearby because of a gas leak shot the driver dead in less than a minute.
Authorities identified the officer as 28-year-old Alan Horujko, who has been with Ohio State University police since 2015.
The injured included a mix of academic faculty, maintenance staff, and graduate and undergraduate students.
Campus police say that CCTV cameras filmed the suspect arriving on campus alone, indicating that he did not have an accomplice aiding him during the attack.
Student Martin Schneider said he heard the car's engine revving.
"I thought it was an accident initially until I saw the guy come out with a knife," he said.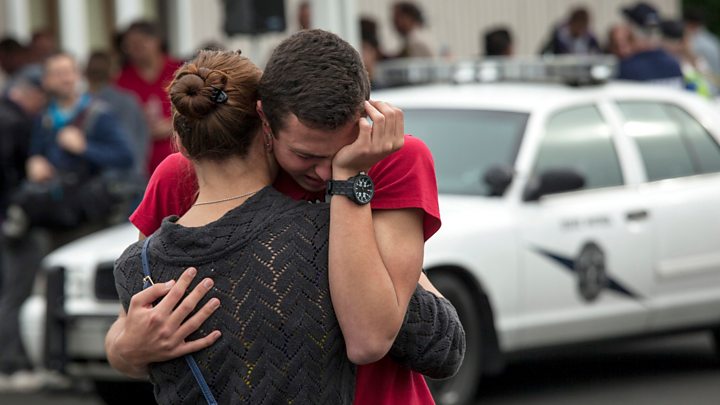 The college had warned students in a tweet to "Run Hide Fight", warning there was an "active shooter", though authorities later said the attacker did not use a firearm.
In recent months, federal officials have warned about extremist efforts to recruit people for knife and car attacks, which are seen as easier for home-grown radicals to carry out than bombings.
The so-called Islamic State group has urged sympathisers to use whatever weapons are available to them to carry out attacks.
It also called on followers to use vehicles to attack the Thanksgiving Day parade in New York City over the weekend.