Breitbart at 'war' with Kellogg's over advertising snub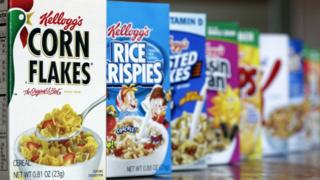 The right-wing website Breitbart, which has been accused by some of being a hate site, is calling for a boycott of Kellogg's products after the cereal maker pulled its advertising from the news outlet.
Using the hashtag #DumpKelloggs to promote a petition through social media, Breitbart is urging its readers to "ban bigotry from the breakfast table".
The media organisation, previously run by US President-elect Donald Trump's chief strategist Steve Bannon, said the move by Kellogg's to cease advertising was "an escalation of war".
On Tuesday Kellogg's removed its adverts from Breitbart on the basis that the site did not "align with our values as a company".
Breitbart said the decision was one of a number of provocative moves by "leftist companies" against those whose values propelled Mr Trump into the White House.
The online petition, which was posted on Wednesday, has already received more than 100,000 signatures.
However Breitbart's call to #DumpKelloggs has been met with mixed reaction on social media.
"This just in!!! Breitbart is potentially a cereal killer!" writes one user of the online news-sharing community Reddit.
"That explains the boxes of Alt-Rice Krispies I'm seeing on the shelves," writes another.
Those supporting the boycott on Twitter argue that items such as breakfast cereal "shouldn't be political", with some posting images of themselves disposing of Kellogg's products in bins.
---
---
---
---
Others are coming out in support of Kellogg's and making light of the so-called "war", which is "escalating" far beyond discussions at dining tables across the US.
Users debating the issue are also split on who is most likely to be hurt by the company's move, Breitbart or Kellogg's.
---
---
---
---
---
Breitbart is a popular outlet in the US. Its readership increased from 2.9m unique visitors in 2012 to 17m in 2016, making it the most-read conservative news website in America.