Pizzagate: Gunman fires in restaurant at centre of conspiracy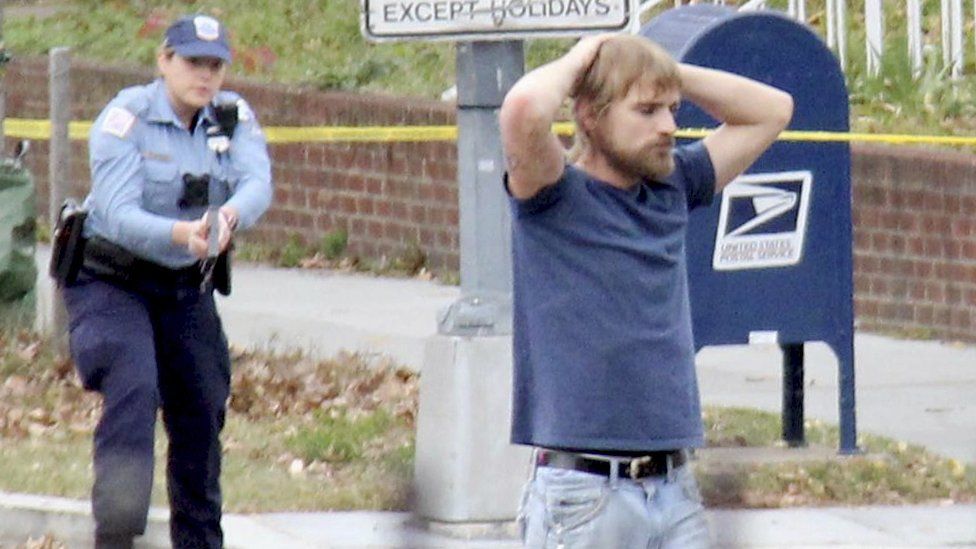 A man has been arrested after firing a rifle inside a pizza restaurant in Washington DC that was the target of a bizarre fake US election story.
No-one was injured in the incident at Comet Ping Pong in an affluent neighbourhood of the nation's capital.
A 28-year-old man from North Carolina was taken into police custody.
Conspiracy theorists said the pizzeria was the base of a child sex ring run by ex-US presidential candidate Hillary Clinton and her aide, John Podesta.
Edgar Maddison Welch, the man arrested on Sunday, told police he went to the restaurant to "self-investigate" the theory, dubbed "pizzagate".
The suspect allegedly walked into the restaurant and pointed the rifle at an employee, who managed to flee. He later fired the weapon.
He has been charged with assault with a dangerous weapon.
The "pizzagate" theory originated on alternative message board 4chan, based on emails hacked from the Democratic Party and leaked by Wikileaks.
The restaurant's owner, James Alefantis, a Democratic Party donor, appears in the emails in relation to organising a Democratic fundraiser.
Users of 4chan and another message board Reddit had claimed that words in the emails, such as cheese, hot dog, and pizza, were code for young children and sex acts.
Mr Alefantis said after Sunday's incident: "Let me state unequivocally: These stories are completely and entirely false, and there is no basis in fact to any of them.
"What happened today demonstrates that promoting false and reckless conspiracy theories comes with consequences."
The bizarre and unfounded theory has been spread online by right-wing blogs such as Infowars, which is run by Donald Trump supporter Alex Jones.
Mr Jones, a conspiracy theorist and talk radio host, said Mr Trump called him the day after the election to thank him and his followers.
The theory was also pushed online by Michael Flynn Jr, son of General Michael Flynn, Mr Trump's choice for national security adviser.
Mr Alefantis, the owner of Comet Pizza, has received hundreds of threatening messages on Instagram and Facebook.
There have also been protests outside the eatery.
The conspiracy theory was one of a number of fake news stories related to the US election that have spread both before and after the poll.