Val d'Or: Quebec launches inquiry into indigenous treatment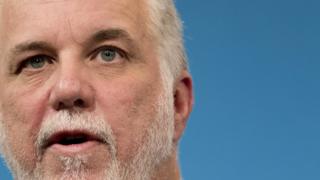 Quebec has launched a public inquiry into the treatment of indigenous people in the province.
It will complement an ongoing national inquiry in missing and murdered indigenous women in Canada.
First Nations leaders have been pressing the province for a separate inquiry following the claims of police abuse in remote Quebec town.
The inquiry will look at "concrete" ways to eliminate discrimination in their interaction with public services.
Quebec Premier Philippe Couillard announced the inquiry on Wednesday.
The public commission will focus on health and social services, child protection, correctional services, police and the justice system in Quebec.
Allegations against the provincial police shocked Quebec in 2015 after a number of indigenous women went public with claims of intimidation, abuse of power, and sexual and physical abuse by officers stationed in Val d'Or, a town of 31,000 people some 530km (330 miles) northwest of Montreal.
Soon after, Quebec ordered a wide-ranging investigation into the allegations to be handled by Montreal police, amid a growing calls to launch an inquiry into the affair.
Police eventually handed over 37 files to Crown prosecutors.
In November, the province's criminal prosecutions office said none of the allegations met the burden of proof necessary for indictments. At the time, prosecutors said they had no reason not to believe the women's allegations but did not think they could prove them in court.
However, the Crown did file charges against two retired police officers from Schefferville, another rural Quebec community, on alleged crimes dating to the 1980s and 1990s.
Provincial Justice Minister Stephanie Vallee said the goal of the inquiry was not to hunt down guilty parties but to "find the root causes of the situation".
"We are seeking reconciliation rather than blame," she said.
The commission will be presided over by retired Quebec Superior Court Justice Jacques Viens and has the mandate to look back over the past 15 years.
He is expected to table a report by November 2018 with recommendations on "concrete, effective, and lasting" actions Quebec and aboriginal leadership can take to end violence, discrimination, or prejudicial treatment from provincial officials towards aboriginal Quebecers.
Earlier this year, Ottawa launched a wide-ranging national investigation into violence against the country's indigenous women.
It is expected to last at least two years and cost up to C$53.8m (£30.8m). The inquiry began in September and will run until 31 December 2018.
A 2015 United Nations report revealed that young indigenous women in Canada were five times more likely to die under violent circumstances than non-aboriginal women.