Grilled cheese argument ends in attempted murder charge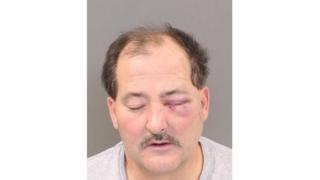 An argument over a grilled cheese sandwich ended with a Baltimore man facing attempted murder charges.
Daniel Brian Blackwell, 55, became angry when his wife took a bite of his sandwich, and shot at her through the basement floor, she said.
She fled the building with three teenagers, and police began a three-hour armed stand-off.
Blackwell is not legally permitted to own guns because of prior convictions for assault, police said.
But 15 guns, four of which were loaded, were recovered from the house.
He later left the house unarmed and was subdued by non-lethal means.
Among the weapons was a "lever-action long gun with a chambered round placed just inside the front door", police said.
Blackwell's wife told police that after the argument over the grilled cheese sandwich, she heard a gunshot while she was in the kitchen. Blackwell came upstairs briefly, she said, before returning to the basement.
Three more gunshots followed, and the bullets came through the kitchen floor near where she stood, she said.
Blackwell has been charged with attempted first- and second-degree murder, first- and second-degree assault, reckless endangerment and a number of firearms violations.