Ruth Bader Ginsburg death: What is the US Supreme Court?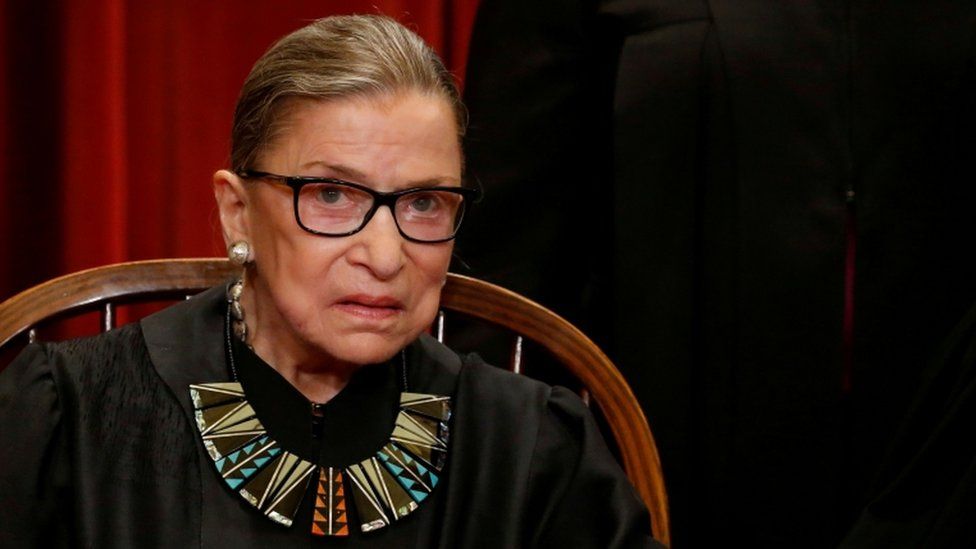 The death of liberal judge Ruth Bader Ginsburg at the age of 87 has raised questions over the future direction of the US Supreme Court.
Ginsburg, a prominent feminist and key liberal voice, served on the court for 27 years.
Each of the nine judges - known as justices - serves a lifetime appointment after being nominated by the president and approved by the Senate.
But with just six weeks until the 3 November presidential election between incumbent President Donald Trump and Democratic nominee and former Vice-President Joe Biden, a Supreme Court vacancy adds another controversial turn to an already fiercely contested campaign.
So what is the Supreme Court and who will pick Ginsburg's successor?
What does the Supreme Court do?
The highest court in the US is often the final word on highly contentious laws, disputes between states and the federal government, and final appeals to stay executions.
It hears fewer than 100 cases a year and the key announcements are made in June.
Cases are usually brought to the court after they are appealed from a series of lower courts, although in time-sensitive cases, lawyers can petition for a hearing. The court's opinions can also create precedents, directing other judges to follow their interpretation in similar cases.
In recent years, the court has expanded gay marriage to all 50 states, allowed for President Donald Trump's travel ban to be put in place and delayed a US plan to cut carbon emissions while appeals went forward.
What's the current state of the court?
While a majority of Supreme Court cases do not break on ideological lines, there are conservative and liberal wings and key cases have been decided by just one vote.
Ginsburg herself voted for progressive issues in the court, including upholding key parts of the 2010 Affordable Care Act, commonly known as Obamacare, and legalising same-sex marriage.
Since his election in 2016, President Donald Trump has picked two new justices, Neil Gorsuch and Brett Kavanaugh.
Before Ginsburg's death, the court was seen to have a 5-4 conservative majority, leading to what some have called the most conservative-leaning court in modern US history.
However, US Supreme Court Chief Justice John Roberts, who was nominated by a Republican president, has sided with the four liberal justices on several rulings, including a case involving abortion.
Who will appoint Ginsburg's replacement?
Supreme Court justices are appointed by the president - but in an election year, the key question is whether the decision should be made before or after the new presidential term begins.
In 2016, Republicans in the Senate blocked the confirmation hearing for a justice nominated by Barack Obama, saying that no appointment should be made during an election year. President Trump nominated a conservative judge, Neil Gorsuch, to fill the vacancy within days of taking office in January 2017.
However, Ginsburg strongly disapproved of such a move.
"My most fervent wish is that I will not be replaced until a new president is installed," she wrote in a statement to her granddaughter, according to National Public Radio.
Joe Biden, who served as vice-president to Barack Obama, has also rejected the idea. "Let me be clear: The voters should pick a President, and that President should select a successor to Justice Ginsburg," he wrote on Twitter.
Does the court matter globally?
US research suggests that the influence of the Supreme Court abroad has diminished over the past two decades, as court systems elsewhere in the world develop and US influence in general wanes.
Fewer courts internationally cite US Supreme Court opinions, increasingly citing the European Court of Human Rights and other national supreme courts.
In 2016 a Supreme Court decision on emissions from coal-fired power plants on US soil threatened the Paris Climate Agreement, but enough other countries ratified the treaty for it to come into force.
Donald Trump's controversial travel ban, which affects Middle East countries designated as terror-prone, was cemented by the Supreme Court, with the outcome affecting millions internationally.
And back in 2000, the Supreme Court decided the outcome of the presidential election between George W Bush and Al Gore - a decision which more recent history shows still has a significant impact around the world.