Trump claims media 'dishonest' over crowd photos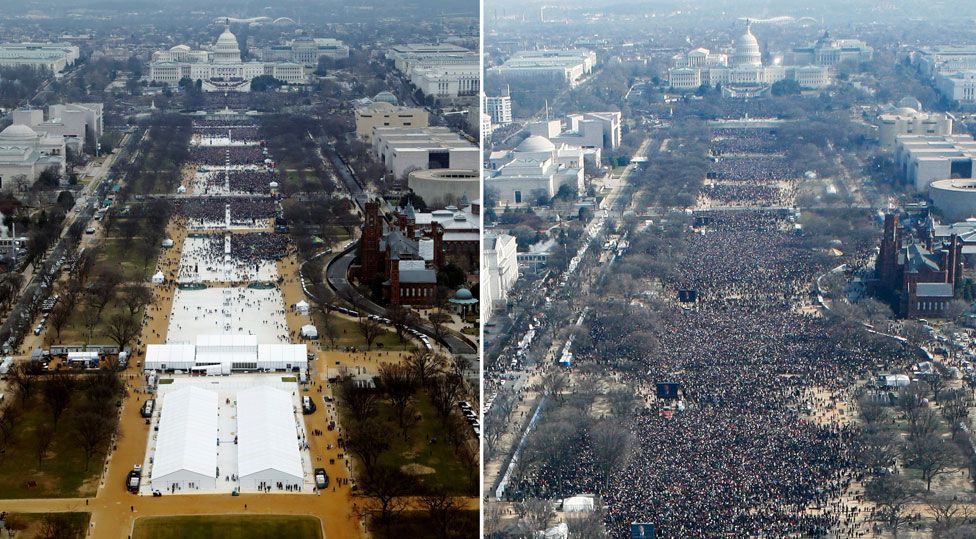 President Donald Trump has accused the media of dishonesty over the number of people attending his inauguration.
Mr Trump was speaking after photographs were published appearing to show more people attended the inauguration of his predecessor Barack Obama in 2009.
Mr Trump's press secretary said it had been "the largest audience to ever see an inauguration" even though figures he cited add up to under 750,000 people.
He said the new US administration would hold the media accountable.
In response, President Trump tweeted on Sunday: "Watched protests yesterday but was under the impression that we just had an election!
"Why didn't these people vote? Celebs hurt cause badly."
The largest US rally was in the capital, Washington DC, which city officials estimated to be more than 500,000-strong, followed by New York with some 400,000 and hundreds of thousands elsewhere, including Chicago and Los Angeles.
Inauguration: What are the figures?
For decades, the US National Park Service provided official crowd estimates for gatherings on the National Mall.
But the agency stopped providing counts after organisers of the Million Man March protest about rights for black people in 1995 threatened a lawsuit.
Mr Trump said "it looked like a million and a half people" there on Friday - with the crowd extending all the way back to the Washington Monument.
He provided no evidence and photos show that the crowd did not reach the monument.
To support the argument, his press secretary Sean Spicer outlined figures amounting to 720,000 people in the Mall, despite having asserted seconds before that "no one had numbers" for the inauguration.
He also said that the number of people taking Washington's subway system on the day had been higher than during Mr Obama's second inauguration in 2013.
In fact, there were 782,000 tickets that year, but 571,000 this year, the Washington-area transit authority says.
Mr Spicer also said that plastic sheets had been used for the first time to cover the grass which "had the effect of highlighting areas people were not standing whereas in years past the grass eliminated this visual". In fact, the grass was also covered in 2013.
He added that fences and metal detectors had had an impact on attendance, but this had also been denied by officials as being a factor.
District of Columbia officials had made preparations for an estimated 700,000 to 900,000 people.
What are US media saying?
The new president repeated his low opinion of the media dubbing reporters "among the most dishonest human beings on earth". Mr Spicer vowed "to hold the press accountable".
In their reaction, major US media outlets flatly denied the claims made by the US president and his spokesman.
The New York Times, singled out by Mr Spicer, denounced "false claims" and described the statements as a "striking display of invective and grievance at the dawn of a presidency".
Pro-Trump Fox News reported the claims unchallenged, and highlighted Mr Spicer's condemnation of a Time Magazine reporter who incorrectly reported that a bust of civil rights hero Martin Luther King Jr. had been removed from the Oval Office. The reporter later apologised for the error.
A worrying debut: Analysis by David Willis, BBC News, Washington
In his first ever White House briefing, Sean Spicer rounded on reporters in a manner few here can remember.
Echoing President Trump's charge of dishonesty, Mr Spicer issued a thinly-veiled warning to reporters covering the Trump presidency, saying the new administration intended to "hold the press accountable".
Precisely what he means by that is unclear, but the statement has left many veterans of the White House press pool deeply concerned.
Ultimately, of course, it begs the broader question - what will prove most unpalatable to this new administration: the messenger or the message?
What are inauguration figures for past US presidents?
Officials from the District of Columbia have said that 1.8m people attended Mr Obama's 2009 inauguration and close to 1m showed up for his second in 2013.
George W Bush drew some 400,000 in 2005, 300,000 in 2001; Bill Clinton had 800,000 in 1993 then 250,000 in 1997.
Some 140,000 tickets were sold for Ronald Reagan's inauguration in 1985, but extreme cold forced officials to move the ceremony indoors, says Politifact.
It says the biggest crowd the National Park Service counted was for Lyndon Johnson's 1965 swearing-in that drew 1.2m.