White House aide declines to back Flynn over Russia contact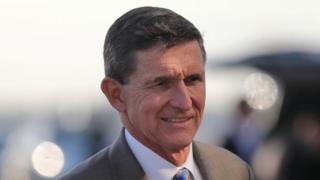 A top White House official declined in several interviews over the weekend to defend national security adviser Michael Flynn, amid controversy over his alleged contacts with Russia.
Mr Flynn reportedly discussed sanctions with Russian ambassador Sergei Kislyak in the weeks before the inauguration.
He denied talking about this issue but later said he could not be certain.
Any discussion of sanctions could have violated laws against private citizens engaging in foreign policy.
Stephen Miller, President Donald Trump's top policy adviser, declined to say when asked in a number of interviews whether Mr Trump backed Mr Flynn.
Mr Miller said it was not his place to comment on the "sensitive matter" concerning Mr Flynn, who was an early supporter of Mr Trump but whose position in the administration is thought to be under scrutiny.
Asked if the president still had confidence in Mr Flynn, Mr Miller responded: "That's a question for the president." Other White House officials have also refused to comment.
Mr Flynn appeared in the front row at President Trump's news conference with Canadian Prime Minister Justin Trudeau on Monday.
The president was not asked about Mr Flynn by the two reporters he called on and evaded follow-up questions about the controversy as he left the room.
Kremlin spokesman Dmitry Peskov told reporters on Monday that Mr Flynn and Mr Kislyak did not discuss lifting sanctions.
The controversy comes as Mr Trump faces his first major national security challenge, following the test by North Korea on Sunday of a ballistic missile.
Mr Flynn would ordinarily be closely involved in determining the US response to such a test.
How the controversy unfolded
Mr Flynn is known to have spoken with Mr Kislyak several times by phone in December.
Both Mr Flynn and US Vice-President Mike Pence denied that the two men discussed US sanctions imposed over Russia's actions in Ukraine and alleged hacking of the US Democratic Party.
But nine current and former officials later told the Washington Post that the issue had been discussed.
A spokesman for Mr Flynn subsequently backtracked, telling reporters that the adviser now said he "couldn't be certain" he had not discussed the sanctions, prompting speculation that he may have misled the vice-president.
Mr Pence and Mr Flynn reportedly spoke twice on Friday.
What is the president's view?
Mr Trump, who spent the weekend at his club in Florida, Mar-a-Lago, has yet to comment publicly. Mr Flynn was with Mr Trump at Mar-a-Lago over the weekend.
The president is expected to face questions on the issue during a joint press conference with Canadian Prime Minister Justin Trudeau on Monday.
Citing administration officials, the Associated Press reported that the president was troubled by the situation and uncertain as to whether he would ask Mr Flynn to step down.
Adviser under fire
Mr Flynn was an ardent supporter of Mr Trump during the campaign, and he has become a close ally of both the president and the president's chief strategist, Steve Bannon.
But questions have been raised about Mr Flynn's closeness with Russia.
He attended a banquet last year held in honour of the Russian government, where he sat two seats away from Vladimir Putin.
A top aide on Mr Flynn's team, Robin Townley, was this week denied security clearance by the CIA, preventing Mr Townley from taking up a post in Africa for which Mr Flynn had recommended him.
And Mr Flynn's son has attracted unwelcome attention - and reportedly a personal rebuke from Mr Trump - after tweeting about the so-called Pizzagate fake news story, which alleged a pizzeria was the nexus of a paedophile ring involving Hillary Clinton and one of her aides, John Podesta.
---
Sink or swim - Analysis by Anthony Zurcher, North America reporter
"I wonder if we'll be here a year from now," Michael Flynn reportedly told a White House colleague recently.
Given the rampant speculation surrounding the national security adviser's fate - and the Trump administration's refusal to provide clear support for his continued employment - predictions of a full year in the job may be generous.
He has probably lost the backing of Vice-President Mike Pence and some other top administration officials, and Democrats in Congress are out for blood.
Much of the intelligence community also dislikes Mr Flynn, dating back to his acrimonious tenure as director of the Defense Intelligence Agency, and many would be happy to see him go, which could explain recent damaging leaks.
If Mr Flynn isn't sunk yet, it's probably because Mr Trump is loath to abandon loyal aides who have been with him since early in his campaign.
The president has long been at odds with the conservative foreign policy establishment, and Mr Flynn is one of the few national security voices he trusts.
Mr Flynn's departure would also buttress reports of rampant White House disorganisation. Cutting him loose may be politically advisable, but it could be harder than it looks.