Tennis star Bouchard's Super Bowl fan gets a second date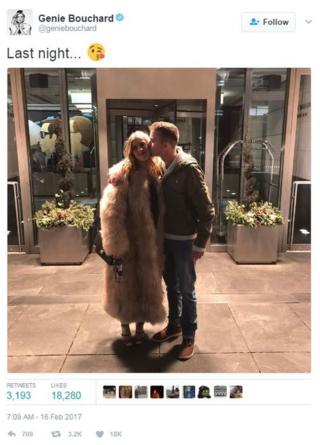 When Canadian tennis star Eugenie Bouchard agreed to a date with a student after losing a Twitter wager, it had the hallmarks of a one-off event.
But in love, as in tennis, there is always room for surprises.
Talking about her evening with 20-year-old John Goehrke, Ms Bouchard called him a "gentleman" and declared it "awesome!"
Asked by a reporter if there would be a second date, she answered: "For sure!"
The saga behind the original date has charmed millions as it played out online, starting amid the drama of the US Super Bowl.
While the Atlanta Falcons were 21-0 ahead, Ms Bouchard predicted their victory on Twitter.
But when New England Patriots fan Mr Goehrke bet her a date that his team would triumph, she gamely accepted.
The Patriots duly mounted a nail-biting comeback in the game's dying minutes.
Ms Bouchard, 22, clearly a woman of her word, met the University of Missouri student in New York on Wednesday to watch a basketball game - and tweeted a picture with him en route.
"Just met my 'Super Bowl Twitter Date' John. On our way to the @BrooklynNets game!" she wrote.
The Montreal native had secured prime courtside seats for the encounter, where the Brooklyn Nets took on the Milwaukee Bucks.
Ms Bouchard is a one-time Wimbledon finalist who is currently 44th in the world tennis rankings.
The signs were good when she shared a photo of Mr Goehrke kissing her cheek at the evening's end.
And when US news site TMZ asked how the date had panned out, she answered: "He picked me up at my hotel, like a gentleman, and we came over here. He got me a nice little gift. We enjoyed the game courtside, and he's a normal fan!"
You might also like
Sports writer eats paper after lost bet
Viral video makes case for 'US first, India second'
Is Zealandia the eighth continent?
She admitted feeling "so lucky" the total stranger had turned out to be a regular guy.
"The most amazing part is that she agreed to it without knowing who I was," her date noted.
The Brooklyn Nets lost the basketball 129-125. But the dating game, it seems, was a win for all concerned.
---
Want a famous date? Try asking!
Eugenie Bouchard is not the first famous face to prove a good sport in the romance stakes.
In 2011, actress Mila Kunis accompanied a US serviceman, Sgt Scott Moore, to a Marine Corps Ball in North Carolina after he asked her to be his date via a YouTube video.
The same trick worked on Justin Timberlake, who joined Cpl Kelsey de Santis at a Marine Corps ball in Virginia - and called it "one of the most moving evenings" of his life.
And singers Rihanna and Taylor Swift both made teenage dreams come true via the MTV show Once Upon a Prom - showing up as glamorous prom dates for two high school boys.