Milo Yiannopoulos dropped over paedophilia comments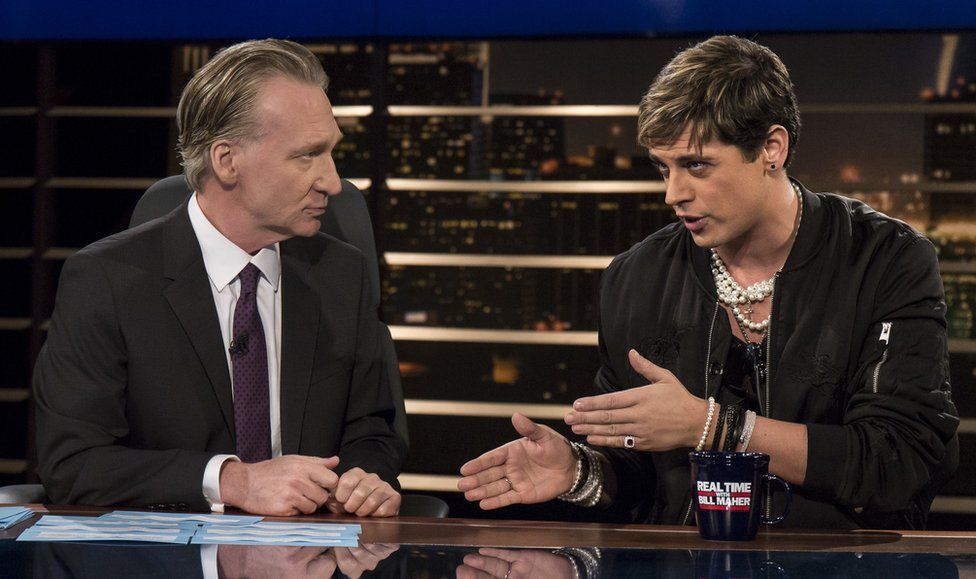 Ultra-conservative writer Milo Yiannopoulos will no longer speak at a US conservative conference and his book deal has been cancelled after videos surfaced in which he appeared to condone paedophilia.
The footage showed him discussing the merits of gay relationships between adults and boys as young as 13.
On Facebook, Mr Yiannopoulos denied ever endorsing paedophilia.
He said one video had been edited to give a misleading impression.
However, the American Conservative Union, which runs the Conservative Political Action Conference (CPAC) where President Trump is due to speak on Friday, said the apology was not enough.
"We urge him to immediately further address these disturbing comments," Matt Schlapp said in a statement.
Book publisher Simon & Schuster said it had cancelled the publication of Mr Yiannopoulos's book Dangerous, which was due out in June, after "careful consideration".
In the footage, Mr Yiannopoulos - a passionate supporter of Donald Trump and an editor at right-wing website Breitbart - seems to suggest the determining factor for paedophilia is whether the younger partner has gone through puberty.
However at another point in the video he says the US age of consent, which is 16 to 18 years old depending on location, is "about right".
In his Facebook statement, Mr Yiannopoulos said: "I find those crimes to be absolutely disgusting. I find those people to be disgusting."
Mr Yiannopoulos, who is openly gay, said he regretted using the word "boys" instead of young men while discussing gay relationships with large age gaps.
He blamed "sloppy editing" and "usual blend of British sarcasm, provocation and gallows humour" for creating the wrong impression.
He also claimed that he himself had been a victim of child abuse.
Mr Yiannopoulos is regularly associated with the alt-right, a disparate nationalistic group that is outspoken against so-called political correctness and feminism. It includes neo-Nazis, white supremacists and anti-Semites.
He says he does not consider himself part of the alt-right, although he has called it "energising and exciting".
He revels in courting controversy, and has written columns titled "Birth Control Makes Women Unattractive and Crazy" and "Would You Rather Your Child Had Feminism or Cancer?"
President Trump - whom Mr Yiannopoulos refers to as "daddy" - threatened to cut the university's federal funding in response.
He was also banned from Twitter last year after leading a campaign of abuse against black Ghostbusters actress Leslie Jones.