Trump cabinet member trots through Washington on horseback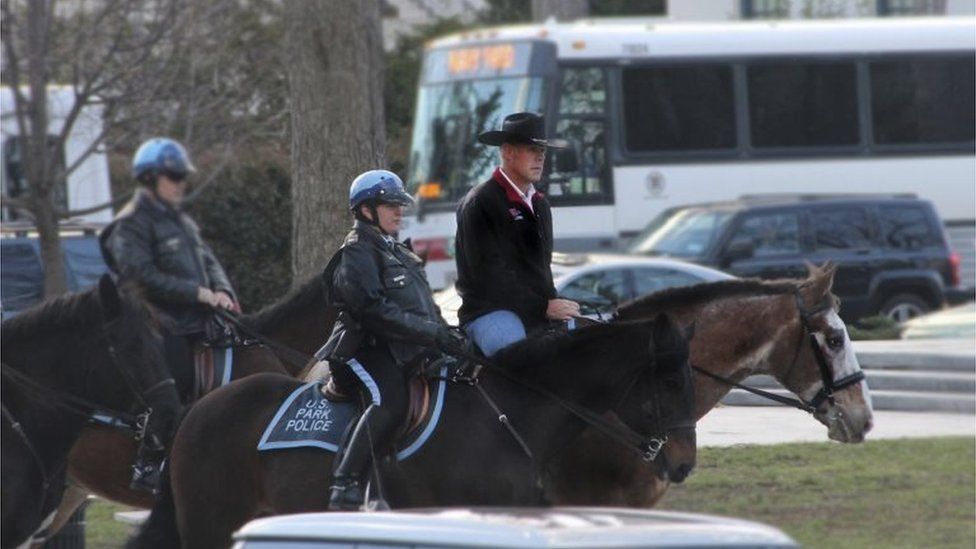 New US Interior Secretary Ryan Zinke literally took the reins on his first day at work by showing up on horseback.
The former Montana congressman and Navy SEAL rode through downtown Washington atop a 17-year-old Irish sport horse named Tonto.
Nine US Park Police on horseback accompanied the 55-year-old to the Interior Department's headquarters a day after he was sworn in.
He was spotted wearing a black cowboy hat as he made his way through traffic.
"Secretary Zinke was proud to accept an invitation by the US Park Police to stand shoulder to shoulder with their officers on his first day at Interior," said Interior spokeswoman Heather Swift.
Mr Zinke was greeted by hundreds of federal workers, including an Office of Indian Affairs employee from the Northern Cheyenne tribe in Montana, who played him a song on a hand drum.
The Interior Department oversees more than 20% of US federal land, including national parks such as Yellowstone and Yosemite.