April the giraffe: Pregnant woman's spoof video goes viral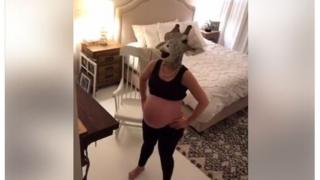 A video of a pregnant woman doing an impression of April the giraffe has gone viral, racking up 10m views in little more than 12 hours.
The real giraffe became an internet sensation after zookeepers put cameras in her pen, in New York state, to broadcast the birth to the world.
Yet, after 10 days and with millions of viewers tuning in, the calf has yet to appear.
In a fitting tribute, the woman paces her bedroom, doing not very much.
The spoof is by a South Carolina-based photographer Erin Dietrich, an expectant fan in more ways than one.
"I did not think this many people would get a kick out of this," said Mrs Dietrich. "All our friends have been making fun of me and my obsession with April so we just thought 'hey, we should order a giraffe mask'."
Her video, in which she sits in various positions, waves to the camera and dances with her giraffe mask on, has already been shared more than 200,000 times.
Meanwhile, tens of thousands of people at a time are watching the video stream from Animal Adventure Park in Harpursville, almost 200 miles north-west of New York.
A total of around 20 million people have viewed the park's footage of April the giraffe so far.
It has been running since 24 February and there have been no signs of April going into labour.
Many welcomed Mrs Dietrich's video as a distraction from the long wait.
"I'm gonna need updates on this one now too," wrote one viewer, Melissa Ann Williams Ramirez. "Who will have their baby first???"
However, as the parody is taking off online faster than the original story, some social-medial users are confused.
"Am I the only one who doesn't get what she is doing?" asked one.