Canada edition: The world the week of 10 March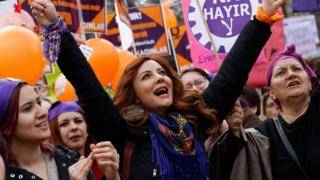 North Korea is mad, Obamacare is getting a makeunder and a town's water supply turned pink: a roundup of this week's news.
Strikes were held in many countries to protest gender inequality for International Women's Day. In the US, the protest was organised by the same people who planned the Women's March in January, while in places like Poland and Romania, the strikes called attention to the need for laws protecting women from domestic violence.
In Canada, Sophie Gregoire Trudeau called on followers to share a picture of their favourite "male ally". Some criticised her for being "tone deaf" by turning a day meant to celebrate women into a day to celebrate men.
Ms Trudeau, wife of self-proclaimed "feminist" Justin Trudeau, responded that fighting gender inequality requires "men and women working together".
Monday, North Korea fired four ballistic missiles into the Sea of Japan, an act PM Shinzo Abe called a "new stage of threat". We don't know kind of missile they used, but most believe the North is still some time away from being able to miniaturise nuclear warheads so they could fit on to a missile.
While this is just one of many missile tests by North Korea, the tests (which are banned by the UN) come as tensions are especially high. North Korea and Malaysia have expelled each other's ambassadors and are refusing to let each other's citizens leave the country. The tit-for-tat was sparked by the death of Kim Jong-nam, the half-brother of North Korea's leader, who was killed in a Malaysian airport. .
US President Donald Trump has revised his travel ban. The new plan has many similarities with the previous order, which was blocked by a federal court, including:
90 day ban on travel visas for citizens of Libya, Syria, Somalia, Sudan and Yemen
120 day ban on new refugee applications
Some differences:
Iraq was taken off the list because the US says its government has boosted visa screening and data sharing
Refugees already approved by the State Department can enter the country
No indefinite ban on Syrian refugees
A series of reports of Canadians being denied entry to the US has Muslim Canadians and civil liberty experts concerned about racial profiling at the border, but according to figures provided by US Customs and Border Protection, the number of people being denied entry at the international boundary is in line with previous years.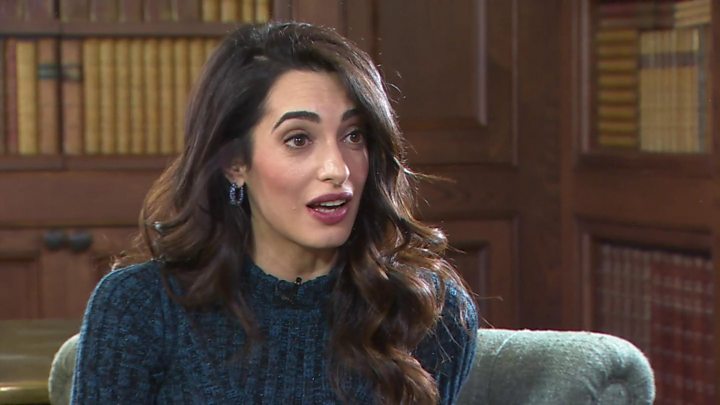 Around the world
Yazidis in spotlight
Human rights lawyer Amal Clooney, who is representing Yazidis in Iraq, is calling for a formal investigation of IS for genocide.
IS has kidnapped thousands of Yazidi women, and turned many into sex slaves.
Canada recently agreed to take 1200 refugees from IS in 2017, mostly Yazidi women.
'Obamacare-lite'
US House Republicans unveiled their long-awaited plan to replace the Affordable Care Act, AKA Obamacare.
The plan, called the American Health Care Act would repeal penalties for those who do not buy health insurance and replace income-based subsidies to help with the cost of premiums with age-based tax credits.
Democrats strongly oppose it, and Obamacare remains popular in many states, even in those governed by Republicans.
Some Republicans say it doesn't do enough to protect the poor, while others say it hasn't gone far enough to dismantle the ACA.
TK on what happens next
BBC investigates Facebook
BBC discovered that Facebook was failing to remove sexualised images of children after the images were reported.
When provided with examples of the images, Facebook reported the BBC journalists to the police and cancelled a planned interview.
It subsequently issued a statement: "It is against the law for anyone to distribute images of child exploitation."
Danish boy makes WWII discovery
The great heels debate
British MPs debated whether companies could require female employees to wear high heels.
A woman sent home from her temp job for not wearing heels started a petition asking for the debate, which garnered more than 150,000 signatures.
MPs called the still-legal practise "discrimination" and discussed raising fines for employers found to have discriminatory policies.
"Shod in heels or flats, we are collectively putting our foot down and attitudes are changing," said Equalities Minister Caroline Dinenage.
TalkTalk 'Indian scam call centre'
Whistleblowers told the BBC that hundreds were hired to scam customers of British telecom giant TalkTalk.
They say as many as 60 "employees" work in shifts in Indian call centres, getting customers to reveal their banking information.
"We are aware that there are criminals targeting a number of UK and international companies, and we take our responsibility to protect our customers very seriously," said a spokeswoman for TalkTalk.
IS kills 30 in Kabul hospital
Meanwhile, in Canada
The water ran pink
The town of Onoway, Alberta apologised after a water treatment chemical turned the water supply pink. Potassium permanganate is mostly harmless, but it can cause skin irritation. On the other side of the world, algae caused a lake in Melbourne, Australia to turn fuchsia.
Ottawa police officer charged in death of Somali-Canadian
Constable Daniel Montsion has been charged with manslaughter, aggravated assault, and assault with a weapon in the death of Abdirahman Abdi. The aftermath of the incident was caught on camera, and has reignited a debate about racism in police practices.
Four Canadians make prestigious literary shortlist
Margaret Atwood, Madeleine Thien, Annie Proulx and Heather O'Neill are among the 16 finalists for this year's international Baileys Women's Prize for Fiction. The winner gets a £30,000 prize.
Zika virus is worse than expected
A new study looking at Canadians who went to Zika clinics found that complications from the disease were "more severe" than expected. While most of the Zika-infected travellers experienced just a rash and fever, two-out-of three pregnant women who visited the clinics developed congenital infections that affected their babies.
How drunk is too drunk?
Prosecutors are appealing two high-profile sex assault cases that have sparked discussions about intoxication and consent. In one case, a jury acquitted a police officer who had sex with an intoxicated woman who while on duty. In another, a judge caused outrage when he said "clearly, a drunk can consent" in his ruling acquitting a taxi driver of raping a passenger.
Whoever thought pressure cooking could be fun?
Amazon sold more than 215,000 Instant Pots on Amazon Prime Day last July. The pressure cooker/rice cooker/steamer/slow cooker/yoghurt maker/saute pan/food warmer was invented in Ottawa, by two men who wanted to make it easier to cook dinner.
Photo of the week
SEE MORE HERE: Night-time in America's small towns