Woman who spoofed April the giraffe gives birth first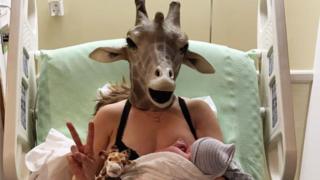 The woman behind the April the giraffe spoof viral video has given birth to a baby boy.
Photographer Erin Dietrich from South Carolina racked up 30 million views earlier this week for her pregnant giraffe impression.
The real giraffe became an internet sensation after zookeepers put cameras in her pen, in New York state, to broadcast the birth to the world.
Yet nearly two weeks later, the world is still waiting for the calf.
Meanwhile, Mrs Dietrich and her husband Scott have welcomed their son, called Porter Lane, who was born on Wednesday evening.
She also created another live-streamed video in her hospital bed, wearing the mask and waving to the camera while in the early stages of labour.
The second spoof also garnered millions of views, as her baby became just as eagerly awaited by internet giraffe fans.
Tens of thousands of people at a time have been watching the video stream of April at Animal Adventure Park in Harpursville, almost 200 miles (321 km) north-west of New York.
A total of around 20 million people have viewed the park's footage of April the giraffe so far.
It has been running since 24 February but there have been no signs of April going into labour.
Many welcomed Mrs Dietrich's video as a distraction from the long wait.
"I did not think this many people would get a kick out of this," said Mrs Dietrich about the original video.
"All our friends have been making fun of me and my obsession with April so we just thought 'hey, we should order a giraffe mask'."
The new baby is Mrs Dietrich's fourth child. April the giraffe is also soon to be a mother of four.
But just how soon, nobody knows. The wait goes on.