Search continues for cobra that escaped from Florida home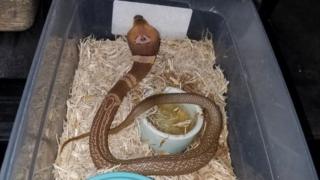 Florida officials are searching for a highly venomous snake that escaped from its enclosure on Monday night, and has not been seen since.
Police and wildlife officials went door to door late at night to tell residents a deadly cobra had apparently escaped from a home in Ocala.
The snake's owner, who is licensed to keep venomous animals, called police after it leapt out from its cage.
Owner Brian Purdy thinks one of his pet lizards may have eaten the snake.
Mr Purdy told officers that one of his large venomous pet lizards had an unusually large stomach, and that he would have a vet take an X-ray to see if the tan and yellow suphan monocled cobra is inside, the Ocala Star Banner reports.
The Florida Fish and Wildlife Conservation Commission say the snake escaped from its cage around 21:00 local time on Monday night while Mr Purdy was away from home.
Another man, who was shadowing Mr Purdy in order to receive his Venomous Reptile Permit, had been attempting to remove the snake from its enclosure when it jumped out at him and escaped into the sealed room.
Officials have alerted neighbours, but officials think the cold-blooded snake would not have gone far from the home due to cold weather.
The two-foot long (61cm) cobra is one of the world's deadliest snake species, but will only attack humans if it is startled, experts say.