Canada mid-air plane collision over shopping centre kills one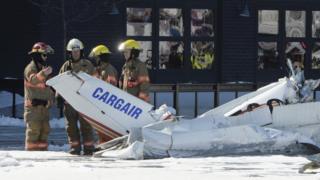 One person is dead after two small planes collided mid-air over a large shopping centre south of Montreal.
Three others were injured in the accident on Friday, which took place over the Promenades Saint-Bruno.
Police say one of the planes crashed into the mall's roof, while the other slammed into a car park.
One pilot is dead and the other is in hospital, and two bystanders had minor stress-related injuries, they confirmed.
The aircraft carried only one pilot each, and no passengers.
Nheil Martinez, who works inside the shopping centre, told the Canadian Press he saw the shadow of a plane and heard its motor before hearing a loud boom.
He saw pieces of the plane fall out of sky.
Quebec Public Safety Minister Martin Coiteux offered his "sincere condolences" to family members of the victims and thanked first responders at the scene.