Eric and Lara Trump announce pregnancy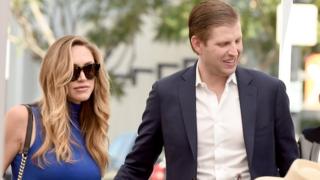 President Donald Trump's son Eric has announced that he and his wife, Lara, are expecting their first child.
They posted on social media that the baby is due in September, saying: "It's been an amazing year. We are blessed!"
The couple got married at the Trump family's Mar-a-Lago estate in Florida in 2014.
The baby will be President Trump's ninth grandchild. His son Donald Jnr has five children and his daughter, Ivanka, has three.
Eric revealed in an interview with People magazine that they are expecting a boy, but said the couple have not decided on a name yet.
Lara Trump also told the magazine: "[Eric's] dad is so excited that we were worried he'd blurt it out at a press conference."