Puerto Rico baseball fans go blond to back team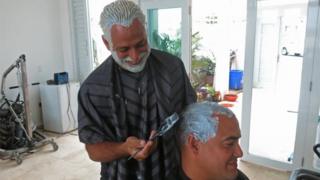 More and more Puerto Rican men are going go blond in support of their baseball team, causing shortages of hair dye in shops on the island.
What started as a joke by squad members is spreading across the US territory ahead of Thursday's World Baseball Classic final in Los Angeles.
On Tuesday, Puerto Rico beat the Netherlands 4-3, and will face the United States in the final.
The World Baseball Classic is staged every four years.
It allows national teams to include professional players from the major leagues around the world, including Major League Baseball in the United States.
"Ever since they began winning, this has not stopped,'' Myrna Rios, a beauty shop manager in Puerto Rico's capital San Juan, was quoted as saying by the Associated Press.
"We have run out of the product in most of our stores."
All shades of blond are apparently extremely popular among Puerto Rico's baseball male fans.
Some are using wigs, while those who are bold have been dyeing their beards as well.
"We have been able to unite our country with our blond hair,'' said Puerto Rico's team member Carlos Correa.
"That's what we want as players to unite our country, our people, and give them the best."
In 2013, Puerto Rico finished as runners-up in the World Baseball Classic, losing to the Dominican Republic in the final.
During the football World Cup in 1998, the entire Romanian team dyed their hair blond after beating England in a decisive group stage match.