Canada billionaire makes history with $75m donation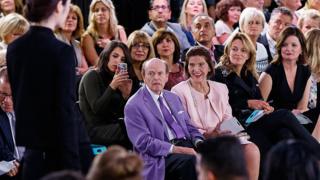 Canadian billionaire Jim Pattison made history when he gave $75m ($56m USD, £45m) to St Paul's Hospital.
The donation will help establish the Jim Pattison Medical Centre in Vancouver, British Columbia.
It was the largest donation in Canadian history by a private citizen to a single medical facility, according to the hospital.
The hospital says the centre will be "a world-class medical and research centre" that serves the whole province.
"Jim Pattison's gift will help us realize an exceptionally rare opportunity to build a major medical and research centre from the ground up, that will establish its place among the most highly regarded and recognized medical centres in North America," said Dick Vollet, the CEO of St Paul's Foundation, in a statement.
Mr Pattison, is estimated to be Canada's 10th richest person, with a net worth of about $5.6b. He is also one of the country's largest philanthropists. A profile in the Globe and Mail noted that he donates 10% of his income to charity every year.
Speaking to local media at a press conference this morning, the 88-year-old says he still gets up every day at 6am.
"I've got to get up and pay for all this stuff now," told local media. "Now I have to go to work."
His company, the Jim Pattison Group, has investments in everything from forestry to natural gas, and its entertainment division includes the Guinness Book of World Records and the Ripley's Believe It Or Not! chain, according to Forbes Magazine.
It began as a single GM dealership in 1961.