Tales of deportation in Trump's America: Week Three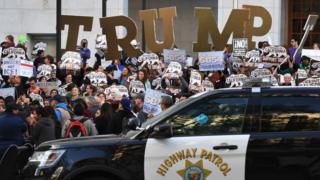 The Trump administration's immigration enforcement priorities are beginning to affect legal residents as well as undocumented men and women.
This week, a number of visa and green card holders were faced with the prospect of deportation, which stirred debate about what crimes should disqualify an immigrant from staying in the US.
One man is fighting to have his case retried because he claims his lawyer failed to instruct him that a guilty plea would initiate the deportation process. The case is currently being heard by the US Supreme Court.
Here's a look at some of the people making news for facing deportation this week.
---
Dr Pankaj Satija and Dr Monika Ummat
Granted a stay: 30 March,in Houston, Texas
Drs Satija and Ummat, a married couple, both had legal status to live and work in the US as neurologists.
Both have green card applications sponsored by their employers. Because of a backlog in processing green card requests going back to 2008, the doctors have been granted provisional legal status to be in the US until their applications are officially approved.
When Dr Satija's father fell ill in October, the couple flew to India. A Customs and Border Patrol (CBP) agent stamped their travel paperwork despite the fact that it had expired the previous year. No one noticed the mistake until the doctors tried to return to the US, when another CBP agent noticed the document had expired four months earlier.
Initially, immigration agents allowed Dr Satija and Dr Ummat to re-enter the US and attempt to correct their paperwork. However, a few weeks ago they were informed that they would have to leave the US and would not be granted temporary permission to stay.
Their lawyer, Gordon Quan, says his clients were able to secure a 90-day extension to fix their paperwork.
"We were just trying to get some time for the sake of the patients because people had surgeries, were in the middle of operations," says Mr Quan.
"I got a call from the hospital saying that some patients may even die if the doctors are forced to leave during that time."
---
Xiaoyuan Zhang, 22
Detained by Ice: 23 January, in Maricopa County, Arizona
An Arizona State University student from China, Mr Zhang was convicted of illegally filming women in a campus bathroom in January. Mr Zhang was in the country on a student visa.
After his conviction, Mr Zhang received a sentence of 10 years of supervised probation and was prohibited from contacting any of the victims he filmed.
However, Mr Zhang now faces deportation because an immigration judge decided his legal basis for being in the US ended when he was convicted for felony voyeurism.
He remains in Immigration and Customs Enforcement (Ice) custody at the Florence Correctional Center in Arizona, awaiting arrangements to be deported to China.
---
Jose Coyote Perez, 41
Detained: February, in Livingston, New York
Mr Perez is a dairy farm employee and an advocate for migrant workers. He was working on a campaign to allow undocumented residents of New York to apply for driver's licenses before Ice agents arrested him in February.
Born in Mexico, he has lived in Livingston County, New York, for 17 years and has four children, three of whom are US citizens.
Mr Perez had a deportation case against him that was administratively closed in September 2016. He had no criminal record, and possessed a social security number, and a work permit.
Having an immigration case administratively closed "is essentially like being in limbo," says Fox. "You're not on a path to citizenship, but you're not going to be deported as long as you comply with the conditions."
When Ice officials asked him to come into a local office for a routine check-in this year, he was subsequently detained.
"I was part of the community and represented my colleagues and I felt free finally, after living in fear for so long," Mr Perez said in a written statement.
"People know me, I speak up, I am not hiding, and when they called me to go in and sign I went, I didn't hide."
Mr Perez is scheduled to have a hearing to set his bail on 19 April.
---
Adolfo Sanchez-Reyes, 43
Detained: 24 March, from Rockville, Maryland
Two weeks ago, Sanchez-Reyes's son, Henry Sanchez-Milian, was arrested on rape charges in Rockville, Maryland, after allegedly assaulting a 14-year-old girl in a high school bathroom.
On 24 March, officers looked into Mr Sanchez-Reyes' immigration status as part of their investigation into his son's alleged crime. He was arrested for residing in the US illegally.
Mr Sanchez-Reyes has been issued a notice to appear in immigration court. He is currently detained at the Howard County Detention Facility in Maryland and could face deportation to Guatemala.
---
Francisco K Rodriguez Dominguez, 25
Released on bond: 27 March, in Portland, Oregon
Mr Rodriguez Dominguez, a recipient of Deferred Action for Childhood Arrivals, was detained by Ice agents at his Portland home on 26 March. He has lived in the US since he was 5 years old.
In December, Mr Rodriguez Dominguez faced charges for drunk driving, but a judge allowed his to enter a diversion program that would clear the charge from his record. If the charge remained, Mr Rodriguez Dominguez's Daca status could have been revoked.
After protests demanding his release, Mr Rodriguez Dominguez left Ice custody on bond on Monday. His immigration case will still move forward through the court system.
An Ice spokesperson told Willamette Week that the agency still considered Mr Rodriguez Dominguez a deportation priority because of his guilty plea on the drunk-driving charge.