Trump ready to 'solve' North Korea problem without China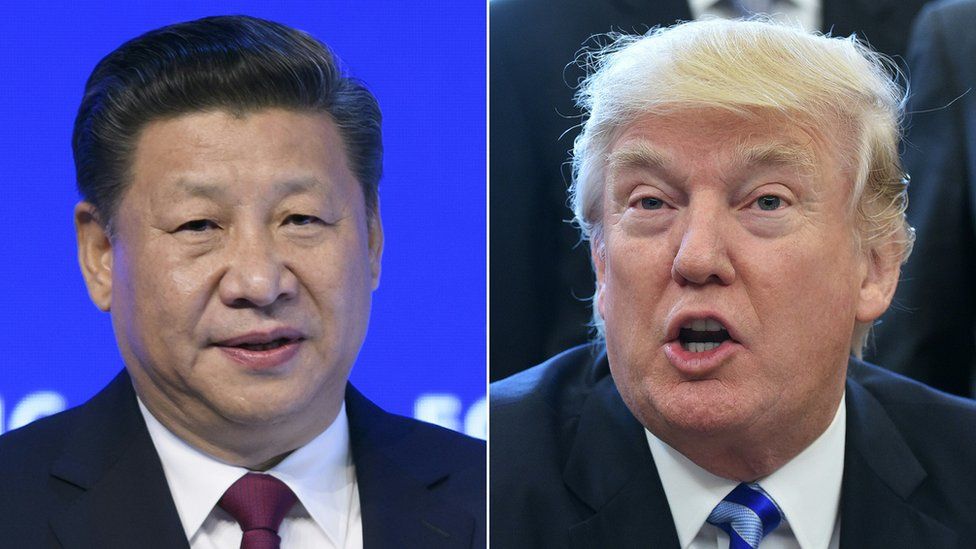 US President Donald Trump has said the United States will "solve" the nuclear threat from North Korea, with or without China's help.
"If China is not going to solve North Korea, we will. That is all I am telling you," he said in an interview with UK newspaper the Financial Times.
Pressed on whether he thought he could succeed alone, he replied: "Totally."
Mr Trump was speaking ahead of a scheduled visit from Chinese President Xi Jinping this week.
"China has great influence over North Korea. And China will either decide to help us with North Korea, or they won't. And if they do that will be very good for China, and if they don't it won't be good for anyone," Mr Trump told the FT.
Asked if he meant "one-on-one" unilateral action, Mr Trump said: "I don't have to say any more."
He did not give any further details on what action he would take.
What is the US concerned about?
Mr Trump's brief comments, published just days before the key meeting with Mr Xi at Mr Trump's Mar-a-Lago resort in Florida on Thursday, are the latest in a series of warnings over North Korea's nuclear development.
There are fears that Pyongyang could eventually develop the ability to launch long-range nuclear missiles capable of striking the mainland US.
However, it is generally thought that military action against North Korea would lead to very high military and civilian casualties.
US officials stress that contingency planning for the military option has been discussed for decades, but the preferred course of action remains pressing North Korea to abandon its weapons programmes via sanctions and other diplomatic pressure.
The United Nations and several nations already have sanctions in place against North Korea, targeting its weapons programme and financial ability to function abroad.
Meanwhile food aid to North Korea - which relies on donations to feed its people - has fallen in recent years as tensions have risen.
But these measures do not appear to be slowing down North Korea's ability to move forward on the military front.
It is argued that sanctions that targeted the intermediaries that keep North Korea moving - like Chinese banks - would make a real impact, as would targeting the oil that Pyongyang imports from China.
Can US do it alone? BBC defence and diplomatic correspondent Jonathan Marcus:
North Korea is fast emerging as one of the Trump administration's most pressing security concerns, but it's a problem that Washington cannot deal with alone. China remains essential.
President Trump's insistence that he can deal with North Korea's nuclear programme alone is at this stage simply mood music ahead of the US-China summit.
Of course the Pentagon has contingency plans for military action on the Korean Peninsula - some defensive and some offensive. That is what prudent military planners do.
But the strategic realities are grim. Leaving aside its nuclear arsenal, North Korea could devastate the capital of South Korea, Seoul, with massed artillery fire and rockets just as any US offensive action was getting under way.
Up to now the focus has been on rolling back Pyongyang's nuclear programme. Now it may be more realistic to seek to contain it. But here again Beijing holds the key.
Mr Trump is expected to put pressure on China's president to do much more about North Korea at their meeting this week - and he has implied that the issue of trade could be used as leverage.
The president told the Financial Times that "trade is the incentive. It is all about trade." But he said he did not plan to discuss tariffs during the meeting.
At the end of March, he signed two executive orders to deal with the US trade deficit, reviewing current rules and foreign trade abuses.
White House officials insisted China was not the focus of his orders - but it is the largest source of the US trade deficit, accounting for about $347bn (£276bn) a year, out of a total of $502bn (£400bn).
And Mr Trump himself tweeted that "the meeting next week with China will be a very difficult one in that we can no longer have massive trade deficits".
Mr Trump has not said how he will negotiate trade with China while also pressing them to influence Pyongyang.
What is China's position?
China is a historic ally of North Korea's, although ties have been strained in recent years. It has taken action in light of the reclusive nation's latest missile tests.
Analysts say China has maintained its support for Pyongyang as it fears a complete collapse of the North Korean regime could lead to Korean unification, with US soldiers based in a country with a land border with China.
It is thought that China is also concerned at the prospect of millions of North Korean refugees crossing the border.