California woman falls off 730ft bridge while taking selfie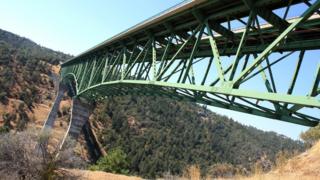 A US woman has survived after falling off one of America's tallest bridges while taking a selfie.
She plunged 60ft (18 metres) on to a trail below after losing her footing on the off-limits catwalk of the span in northern California on Tuesday.
The unidentified woman, from the Sacramento area, was walking with friends on the girders beneath the Foresthill Bridge near Auburn.
She is expected to recover from her injuries, said Placer County Sheriff.
Paul Goncharuk, a friend of the woman, told KOVR-TV she was knocked unconscious by the fall, hurt her arm and will require surgery for bone fractures.
"They were taking a picture on the bridge, and then the big bolts that are holding the beams together, she like stepped on them kind of weirdly and lost balance and fell backwards."
Police have warned visitors to stick to designated spots on the 730ft tall bridge and canyon.
"You will be cited and or arrested if found in any closed location," the Placer County Sheriff's Office said on Facebook.
"Worse yet, you can lose your life and none of that is worth a selfie!"
---
Read more
The Russian craze of extreme selfies