No regrets for Stephen Colbert anti-Trump rant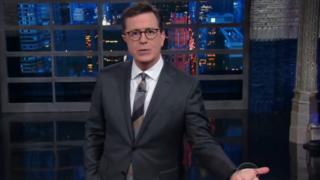 US comedian Stephen Colbert has said he has no regrets but that with hindsight he "would change a few words" in his viral monologue that attracted accusations of homophobia this week.
Social media users tweeted #FireColbert in a demand for the TV host to be sacked for a "homophobic" slur made on his CBS programme The Late Show on Monday in reference to relations between US President Donald Trump and his Russian counterpart Vladimir Putin.
Speaking on The Late Show on Wednesday, Mr Colbert said that he would change "some of the words" in the monologue but did not regret it.
Not everyone has accepted the olive branch however.
No regrets
In his anti-Trump rant on Monday, Mr Colbert jokingly referred to sexual relations between President Trump and President Putin, using a phrase that is considered by some people as offensive.
One Trump supporter who took part in #GaysForTrump, tweeted on Wednesday that Colbert's original rant was "homophobic" and "disgusting", while many others called for him to be fired.
Some defended him, saying people who criticised Colbert for offensive speech while simultaneously attacking political correctness were hypocritical.
Stephen Colbert lambasted for 'homophobic attack' on Trump
On Wednesday, Colbert addressed the backlash.
After checking he still had a job, asking: "Am I still the host?", Mr Colbert justified his monologue: "I was a little upset with Donald Trump for insulting a friend of mine, so... I had a few choice insults for the president in return. I don't regret that".
To rapturous applause, the host quipped: "I believe he can take care of himself. I have jokes, he has the launch codes - it's a fair fight."
However, Mr Colbert then backtracked, explaining that while he would "do it again", he would change some of the words used in the monologue.
Admitting that some of his words had been unnecessarily "crude", he offered an olive branch to the LGBT community, saying: "Anyone who expresses their love for another person in their own way is, to me, an American hero."
Mixed reaction
Many Trump supporters continued to find fault with the comedian and did not appear to be satisfied with Colbert's statement.
"Stephen Colbert's rant against Trump was a disgrace," tweeted Joseph Winters on Thursday morning.
But others continued to question the commitment of anti-Colbert tweets to the cause of LGBT rights: "It's really rich that the people who are calling Colbert a homophobe are the Trump voters who are actively working against gay rights," tweeted Tammie Willis.
Written by the UGC and Social News team