Hollywood star Liam Neeson pursues free sandwich offer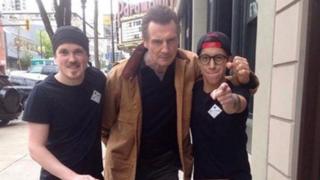 Actor Liam Neeson has paid a surprise visit to a restaurant in the Vancouver area after it put up a sign saying he could eat there for free.
Staff at the shop made the offer after hearing that the star was working nearby to shoot his latest film.
They told local media they were completely taken by surprise when he appeared in person to claim his prize.
The actor used lines from one of his best known films, Taken, to collect his free meal, they said.
Using his famously intimidating voice, he inquired: "Where is my free sandwich?", TMZ reported.
But he refrained from adapting another famous line in his film and did not say: "I will find you and I will eat you," staff at the Big Star Sandwich Company joked.
The actor's demanding schedule meant that he did not stay long enough to eat his prize, although he did pose alongside staff for photographs.
His 30-year career includes high-profile roles in films such as Schindler's List and Michael Collins. He also starred alongside Jeremy Irons and Robert De Niro in The Mission.