Huckabee attacked over 'racist' Cinco de Mayo tweet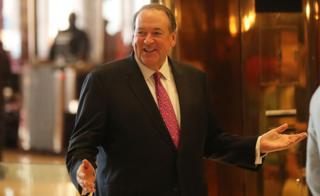 Former Arkansas governor and Republican presidential hopeful Mike Huckabee has been accused of racism for tweeting his plans to celebrate Cinco de Mayo.
He said he would drink a jar of "hot salsa" and watch old Speedy Gonzales cartoons to mark the 5 May celebration.
Mr Huckabee was skewered by Twitter users, who accused him of bigotry and racism.
Cinco de Mayo commemorates Mexico's military victory over French forces at the Battle of Puebla in 1862.
It is seen in the United States as a day to celebrate Mexican culture and heritage, but is wrongly often mistaken as marking Mexican Independence Day.
Festivities in the US also often draw criticism for playing on disrespectful stereotypes of Mexicans.
Mr Huckabee waded directly into that debate with his tweet.
Gabriel Sama, the managing editor of the Spanish-language version of technology website CNET was one of many people to take offence.
Trump declares Hispanic love with tacos
What's Cinco de Mayo all about?
Others fired back by mocking Mr Huckabee's unsuccessful presidential bids.
They were accused of being unable to take a joke, by some users who defended Mr Huckabee.
He eventually responded, hitting out at "trolls" and suggesting they pay attention to comedian and late-night TV host Stephen Colbert, who was this week accused of homophobia after a crude joke about President Donald Trump.
No regrets for Colbert anti-Trump rant
Mr Huckabee unsuccessfully ran for the Republican presidential nomination in 2008 and 2016. He dropped out of the 2016 race in February last year and soon after threw his support behind Donald Trump.
His daughter, Sarah Huckabee Sanders, is deputy White House press secretary.