James Comey: FBI director who took centre stage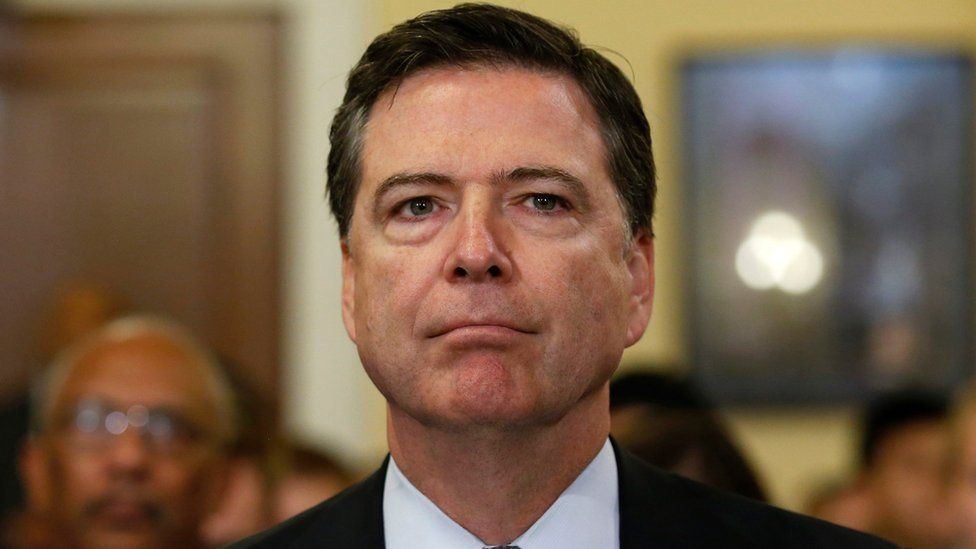 In a detail that was bizarre even by the unpredictable standards of the recent election, James Comey, the 6ft 8in former director of the FBI, while dressed in a blue suit, reportedly attempted to blend in with a matching set of curtains at the White House in January to avoid the attention of the president.
Unsurprisingly, his hasty attempt at camouflage failed. Mr Trump blew him a kiss from across the room and called him over for a warm handshake. The president had every reason to be pleased with the then-FBI director, who had publicly announced an investigation into Hillary Clinton just a week before the election.
Mr Comey on the other hand was wary of Mr Trump and concerned about appearing too close to the president. Mr Trump had already praised him for his pursuit of the Clinton investigation, saying publicly that it "took guts" and had earned his "respect".
Four months on from that strange encounter, Mr Comey fell sharply out of favour. The president called him a "nutjob" and sacked him. But far from withdrawing to the wings, Mr Comey is now preparing take centre stage. On Thursday he will give blockbuster testimony in front of the Senate Intelligence Committee.
Mr Comey will describe to the congressional panel a series of one-on-one meetings in which the president is said to have asked repeatedly for his loyalty and appeared to lean on him to drop an investigation into former National Security Adviser Michael Flynn, and Mr Flynn's alleged ties to Russia.
The former FBI director took meticulous notes directly after the meetings and shared them with senior FBI officials. The notes, detailed in an advance copy of his submission to the committee, conjure a picture of a conscientious lawman troubled by the president's overtures and unsure how best to deal with them.
Regarded as a canny operator, Jim Comey, as he is known, has been moving in political and legal circles at the highest level for three decades. As US attorney for the South District of New York, he attracted a following among many ordinary New Yorkers for his determination to go after the wealthy and powerful.
He was appointed deputy attorney general in 2003 and led high profile prosecutions against lifestyle guru Martha Stewart and Wall Street broker Frank Quattrone.
In 2004, as acting attorney general, he rushed to George Washington University Hospital, where top officials of President George W Bush's administration were attempting to lean on his boss, then-Attorney General John Ashcroft, who was in intensive care.
Mr Bush's White House counsel Alberto Gonzales and Chief of Staff Andrew Card had pressed Mr Ashcroft to re-authorise a controversial programme allowing federal agents to eavesdrop on phone conversations without a warrant. Mr Comey's intervention drew wide praise.
'A man who stands very tall'
In 2005, Mr Comey left the Department of Justice for the private sector - working first at defence contractor Lockheed Martin and later hedge fund Bridgewater Associates. A spell as a fellow at Columbia Law School followed, before a call from President Barack Obama.
In July 2013, Mr Obama nominated Mr Comey as FBI director, describing him, literally and figuratively, as a "man who stands up very tall for justice and the rule of law". In September he was appointed as the seventh director of the FBI, with a 10-year mandate.
Over the next few years he was rarely a figure of public interest. He met with President Obama just twice - once to discuss policy and once to say goodbye at the end of the president's term. Then in mid-2016, everything changed.
Mr Comey announced in July that year that an investigation into Mrs Clinton's use of a private email server would be closed without prosecution, drawing partisan ire from Republicans. In late-October, just 11 days before the election, in a surprise about-face, he announced that the FBI had reopened the inquiry following the discovery of new emails.
The decision to re-open the investigation, and to announce it publicly so close to the election, was condemned by Democrats. Many accused him of derailing her campaign. Then just two days before the polls opened, another reversal: Mr Comey wrote to congressmen and women to say the investigation would no longer be pursued.
In a Senate hearing in May, he claimed that Clinton aide Huma Abedin had forwarded "hundreds and thousands" of emails to her husband Anthony Wiener, "some of which contain classified information". But the FBI later conceded that only two email chains containing classified information were sent by Ms Abedin to her husband for printing.
Hours after that Senate hearing, Mr Comey was sacked. In an extraordinary sequence of events, the FBI director found out about his dismissal from a TV news report while he was addressing staff in California. Embarrassingly, he assumed it was a joke, and had to be taken aside and informed that what he was seeing was real.
White House staff struggled to defend the surprise dismissal, less than halfway into Mr Comey's 10-year term, and a chaotic whirlwind of briefings and conflicting explanations followed. Mr Comey remained quiet during the fallout. Later he made it clear he wanted to testify at a public hearing, and prepared to head into the spotlight once again.