Trump lawyer Michael Cohen defends posting daughter's lingerie picture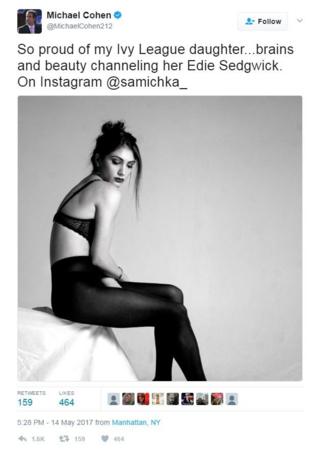 Donald Trump's lawyer Michael Cohen has ignited a debate about fatherly pride, after tweeting a picture of his daughter in lingerie.
He shared a black and white modelling shot of his daughter, 21-year-old Samantha, with the words: "So proud of my Ivy League daughter... brains and beauty channeling her Edie Sedgwick".
Minutes later, he found himself branded "Mr Creepypants" by critics on Twitter.
Several of the replies drew angry retaliation from Mr Cohen.
"Most fathers don't post lingerie shots of their daughters. I guess #Trump must be rubbing off on you," one tweeter said.
The angry lawyer responded: "Beauty and brains you a-hole! It's a modeling shot remake from an old Edie Sedgwick photo. #hater"
'Jealous'
Another Twitter responder, Shannon Coulter, wrote: "Edie Sedgwick bucked social norms for women in the mid-1960s. If you'd been her dad, you'd have been angry and terrified."
She then reposted the original photograph of Edie Sedgwick in a black bra and tights, which shows her smoking and "sitting on a man as if he was furniture".
Mr Cohen, who serves as the president's personal attorney, also called one unimpressed woman "jealous".
Some observers suggested Mr Cohen's pride wasn't at fault - only his choice of picture.
"She's lovely," tweeted a woman with the handle @kidsistah. "But seriously dude, no cap & gown pics available? Think before you post. If she has got brains, she didn't get them from you."
At least one mother supported Mr Cohen, writing: "As mother of 2 Ivy daughters this pic is no big deal. The kids consider it art & impressive. You people r unsophisticated & out of touch."
The lawyer's daughter, who is a student at the University of Pennsylvania, also sprang to his defence, retweeting his "jealous" comment.
She told Dailymail.com: "My father, who has always been supportive of my endeavours, was merely expressing his pride. There is nothing inappropriate in the picture and those who seek to make it something it is not are merely Trump haters who are using this as an opportunity to stir up drama.
"I find it hypocritical that those who consider themselves liberal would criticise a woman embracing her body. There is nothing sexualised about the photograph... it is tasteful and it is demure."
Ms Cohen has posted several pictures of herself in swimwear on her public Instagram page - and one with her father, captioned simply "Daddy's girl".