Robert Mueller: 'Incorruptible' G-man stalking Trump presidency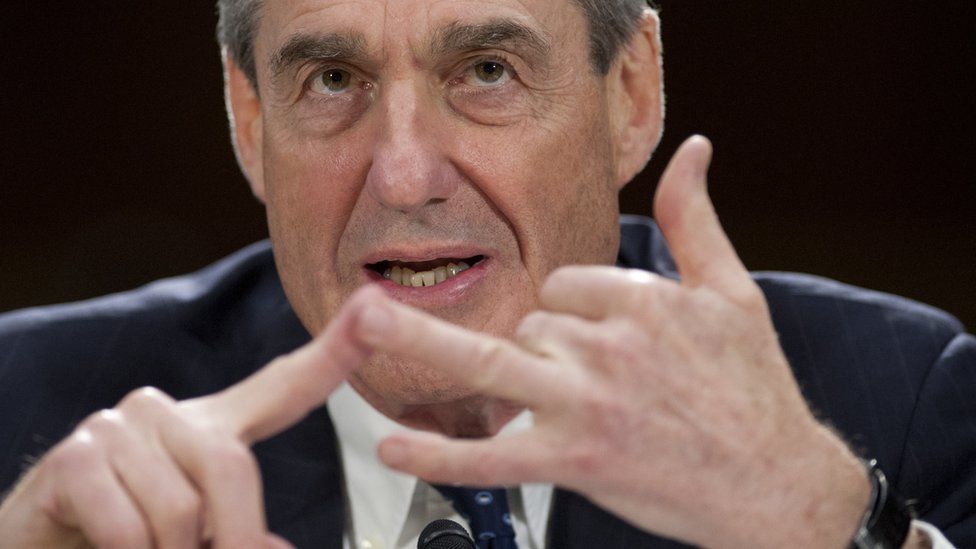 US President Donald Trump's presidency could hinge on the investigation led by Justice Department special counsel Robert Mueller.
But who is the veteran G-man?
When Mr Mueller was picked to lead the inquiry into alleged Russian interference in last year's presidential election, the appointment seemed to cross the partisan divide.
Robert Mueller III - to use the full name that has earned him the moniker "Bobby Three Sticks" - was named FBI director by President George W Bush.
When President Barack Obama entered office in 2009, he kept Mr Mueller on for another two years.
He became the longest-serving chief of America's famed law enforcement bureau since J Edgar Hoover, who was director from 1935-72.
The president's legal team has suggested Mr Mueller has another conflict of interest.
He quit as a member of the Trump National Golf Club in Sterling, Virginia, in a 2011 dispute over fees, reports the Washington Post.
The criticism has provoked speculation that Mr Trump could even fire Mr Mueller.
But the 73-year-old has previously extricated himself from the rough amid politically motivated attacks.
Mr Mueller took over the FBI in 2001, just a week before 9/11.
The beginning of his tenure was consumed with the task of restoring the FBI's reputation after the agency and the CIA were found to have failed to share information on the terrorist threat.
In 2004, President Bush tried to reinstate a post-9/11 programme that allowed wiretapping without a court warrant, which the Justice Department had determined was unlawful.
Mr Mueller, then-Deputy Attorney General James Comey and then-Attorney General John Ashcroft are widely reported to have threatened to quit en masse.
They agreed to stay, it is said, only after Mr Bush backed down and made changes to the programme.
Mr Comey succeeded Mr Mueller at the FBI until he was fired by President Trump in May 2017 as Mr Comey led the ongoing Russia inquiry.
Mr Mueller and Mr Comey were close allies, according to author Garrett Graf, who has written a biography of Mr Mueller.
Mr Mueller's public service began long before he joined the FBI.
Born in New York City and raised near Philadelphia, he was inspired to join the Marine Corps after his Princeton classmate died serving in the Vietnam War.
Mr Mueller received a Purple Heart after getting shot in the leg in the conflict, where he was a rifle platoon leader.
He went on to graduate from the University of Virginia School of Law in 1973 and joined a private legal firm in San Francisco.
Mr Mueller entered public service in 1976 as an assistant US attorney in San Francisco.
He earned a reputation as a no-nonsense investigator who pursued wrong-doers with Javert-like doggedness.
During a stint heading the Justice Department's criminal division from 1990-93, he oversaw the inquiry into the 1988 Pan Am airline bombing over Lockerbie in Scotland.
Mr Mueller also handled the drug case against former Panamanian dictator Manuel Noriega.
Long-time colleague David Kris described him as "utterly incorruptible".
"He was famous in the FBI for always wearing a white shirt, dark suit and red or blue tie and would question any of his staff who showed up in the office not wearing a white shirt just like him."
His Senate confirmation vote as FBI director went 98-0 in his favour. A special Senate vote to extend his term beyond the usual 10 years to 12 passed 100-0.
To avoid any ethical pitfalls before taking the special counsel role, Mr Mueller quit his legal work for Washington-based firm WilmerHale.
It had counted Mr Trump's daughter Ivanka, his son-in-law Jared Kushner, and his former campaign chairman Paul Manafort among its clients.
The firm told Politico that Mr Mueller had not been involved with any of those representations.
Mr Mueller has since indicted Mr Manafort on money-laundering charges.
Three other former Trump aides have also been charged.
The investigation - which Mr Trump has branded a "witch hunt" - seems to be hotting up.
One thing seems certain: if past is precedent, Mr Mueller will leave no stone unturned.