Times Square car crash driver Richard Rojas 'heard voices'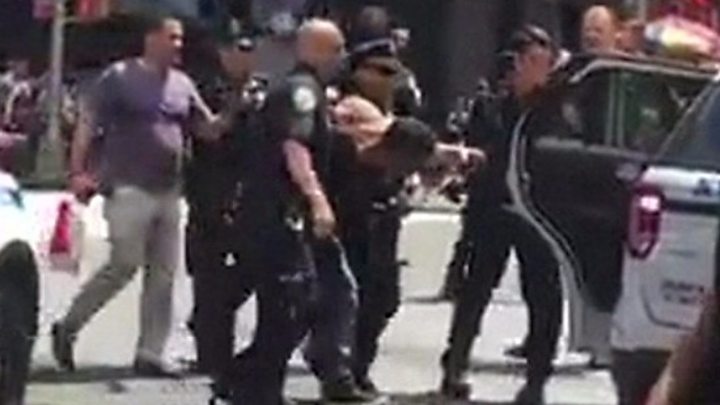 A man who drove a car along three blocks of pavement in New York's Times Square, killing a teenager and injuring 22 people, said he had "heard voices", according to law enforcement sources.
Richard Rojas, 26, a US Navy veteran who was arrested twice previously for drink-driving, is now in custody.
He also said he expected to die, the sources told AP news agency.
According to Reuters, he said after being arrested: "You were supposed to shoot me! I wanted to kill them."
He told police he had smoked PCP-laced marijuana before the rampage, say prosecutors.
Mr Rojas has been charged with murder in the second-degree, 20 counts of attempted murder, and five counts of aggravated vehicular homicide. He appeared in court on Friday.
What happened on Thursday?
The streets in Times Square, a bustling tourist district, were thronged with visitors when the car ploughed through the crowds.
The burgundy Honda saloon mounted the pavement at 45th Street and Broadway at 11:55 local time (15:55 GMT) and drove at high speed for three blocks before crashing into a pole.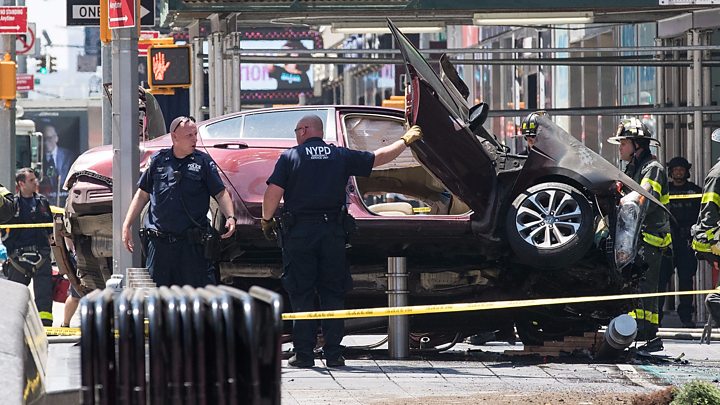 It came to a standstill with smoke and flames escaping the bonnet.
Afterwards, victims lay on the ground, many of them separated from their scattered shoes and belongings, as medical staff, police officers and passers-by tried to assist them.
One pregnant woman at the scene said: "A man pulled me out of the way of the car. I think he saved my life."
Media reports say a ticket agent and a worker at Planet Hollywood restaurant were among the people who helped police subdue and detain Mr Rojas.
The Planet Hollywood worker, Ken Bradix, told Associated Press: "He began screaming, no particular words but just utter screaming. He was swinging his arms at the same time. There was something wrong with him."
The incident evoked recent terrorist attacks by vehicles in London, Nice and Berlin but New York Mayor Bill de Blasio said there was "no indication" it was an act of terrorism.
What do we know of Rojas?
According to media reports, he has a history of offending:
He was arrested for threatening a man with a knife earlier this month
He was arrested for drink-driving in 2015
He spent two months in a military prison in South Carolina, in 2013 - it is not clear why
In 2012, he attacked a taxi driver at a naval base in Florida, shouted "my life is over" and threatened to kill police - after which he was charged with misdemeanour battery and resisting an officer without violence
He was arrested for drink-driving in 2008
One neighbour told Reuters Mr Rojas had come back from serving in the navy with a drinking problem.
Harrison Ramos, who lives in Mr Rojas's building in the Bronx, said: "He went through a real tough time. Don't make him out to be a terrorist or something. He served his country and when he came back, nobody helped him.
"That's my friend. I care about him, and it hurts."
One investigator told the New York Times Mr Rojas had so far offered no coherent explanation, and was "just rambling and saying crazy stuff".
What do we know of the victims?
The woman who died was 18 years old. Her name was Alyssa Elsman and she had been visiting from the US Midwest with her family.
She graduated last year from a high school in Portage, Michigan.
Her 13-year-old sister was also hit and injured.
The 22 injured people included:
Cheryl Howard, who had been shopping with her daughter when the car hit her, bruising her head above her left eye and cutting her right arm
64-year-old retired teacher William Nelson, who was taken to hospital and sedated
Thomas Henry, 72, who told the New York Times he "thought it was a dream"
Ariel Lebowitz, 39, who did not remember the car hitting him, and suffered a concussion
---
What is K2?
One form of the man-made, mind-altering chemicals known as synthetic marijuana or synthetic cannabinoids
Spice has been the most common other name, but there are many others
Can be consumed in various ways, including as liquids to be vaporised and inhaled in e-cigarettes, or as chemicals to be sprayed on plant material and then smoked
The chemicals are related to those in marijuana but can be more powerful and unpredictable. Few scientific studies have been done on the effects
Have been freely available for sale
Effects are elevated mood and altered perception, but can evoke hallucinations and paranoia. Violent behaviour, vomiting, suicidal thoughts, seizures and kidney damage have all been associated with use
---