Texas teen accidentally shoots girlfriend outside strip club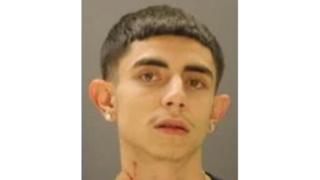 A Texas man has been arrested after allegedly shooting his girlfriend dead while aiming for another man during a fight outside a strip club.
Aldo Saucedo, 19, fatally wounded 18-year-old Natalie Tavares during an altercation outside the nightspot in Dallas early on Sunday morning.
Witnesses said his fight with another man at the Tiger Cabaret Club spilled outside.
Mr Saucedo allegedly got a gun from his car and tried to shoot the man.
The shots missed the man and accidentally struck Ms Tavares, said police.
She was taken to the city's Baylor University Medical Center where she was pronounced dead.
The shots also hit another female bystander, who was taken to the hospital with non-life threatening injuries.
Mr Saucedo was arrested at the scene and is facing murder and aggravated assault charges.