California quadriplegic student's mother gets honorary degree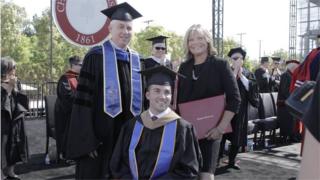 A US mother who helped her quadriplegic son earn a degree by attending all his classes has been awarded an honorary diploma at his graduation.
Judy O'Connor took notes for Marty O'Connor as he studied for his master of business administration at Chapman University in California.
The retired primary school teacher guided her son across the stage in his wheelchair at Saturday's ceremony.
Marty was paralysed from the shoulders down by a fall in 2012.
Mrs O'Connor was taken by surprise when it was announced that she would receive an honorary MBA, at her son's suggestion.
"Mrs Judith O'Connor has attended all the classes with her son Marty," the announcer said, fighting back tears, at the graduation in the city of Orange.
"She has taken notes and worked with Marty throughout his academic career."
Mrs O'Connor said that like any mother she wanted to help her child overcome life's challenges.
"I always believed in him," she said. "I knew he could do it and I just wanted to have his back."
She added that she is "a geek" who loved every minute of studying at the college with her son.
Marty, who received his undergrad degree from the University of Colorado, was working as a salesman for a packaging company in 2012 when he was paralysed after falling down a flight of stairs.
A former competitive snowboarder and volleyball player, he used voice recognition software and a mouth stick to help him during his studies.
He said: "I was just so excited for her because she deserved it so much."
---
Meet the beauty blogger who is also paralysed
Yes, disabled people do have sex