Joker lookalike accused of waving loaded gun at Miami cars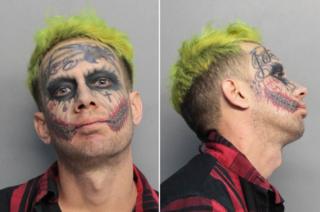 A US man dressed as Batman villain The Joker has been arrested after waving a loaded gun at drivers outside a Florida apartment block, say police.
Lawrence Sullivan, 29, allegedly had a Smith & Wesson handgun with six bullets in the magazine on Tuesday night.
He admitted carrying a gun, but said, "I don't have a permit cuz it's expensive", according to a Miami-Dade police report.
He is charged with carrying a concealed firearm.
On Wednesday morning he told a Florida judge he lives with his mother and works as a "tattoo model".
He is being held in jail on a bail sum of $5,000 (£3,900).
Mr Sullivan has one prior conviction for cannabis possession, according to records.
He is not the first fan of the Caped Crusader's arch-enemy to fall foul of the law recently.
In March, police in Winchester, Virginia, charged a Joker lookalike for wearing a mask in public.
Thirty-one-year-old Jeremy Putman was arrested after several witnesses saw him walking down a street with a sword.
He was held in custody on a $2,000 bail bond.