Fox's Sean Hannity loses advertisers after conspiracy theory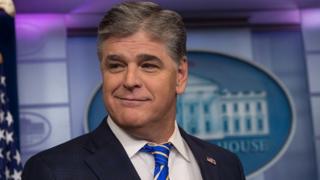 Several companies have pulled adverts from Fox News host Sean Hannity's show after his coverage of a debunked election murder conspiracy.
At least five firms have cancelled commercials, despite Mr Hannity's pledge to drop the topic on-air.
Fox has retracted their story, which claimed a Democratic National Committee employee was shot because he passed emails to Wikileaks.
Washington DC police suspect Seth Rich was gunned down in a botched robbery.
Companies that have ditched the Sean Hannity Show are Cars.com, the United Services Automobile Association, home-security company Ring, Crowne Plaza Hotels, Peloton bicycles, and mattress companies Leesa Sleep and Casper.
In a statement to Buzzfeed, Cars.com said "we've been watching closely and have recently made the decision to pull our advertising from Hannity".
The United Services Automobile Association (USAA) tweeted their decision to an online follower saying: "Thank you for sharing your concern.
"Advertising on opinion shows is not in accordance with our policy and we've since corrected it."
Earlier this week Mr Hannity announced on his primetime show that he would stop talking about Mr Rich's unsolved murder after the victim's parents implored him to drop the subject.
"I did it out of my own heart," Mr Hannity said. "Nobody tells me what to say on my show."
He later tweeted: "Ok TO BE CLEAR, I am closer to the TRUTH than ever. Not only am I not stopping, I am working harder. Updates when available. Stay tuned".
Fox's head of programming asked Mr Hannity to stop mentioning the murder, CNN reported.
The Sean Hannity Show generated $65.7m (£50.7m) in ad revenue in 2016 for Fox News, according to Kantar Media, which tracks spending on commercials.
Liberal watchdog Media Matters For America published a list of more than 100 companies that have advertised on Mr Hannity's programme, encouraging viewers to call in support of a boycott.
Mr Hannity accused the organisation of "liberal fascism" and "targeting my advertisers to silence my voice".
On Wednesday Fox host Kimberly Guilfoyle announced Mr Hannity was going on holiday and that she would replace him on-air for the rest of the week.
"Like the rest of the country, Sean Hannity is taking a vacation for Memorial Day weekend and will be back on Tuesday," a Fox News spokesperson said in a statement.
"Those who suggest otherwise are going to look foolish."
Former Fox host Bill O'Reilly was also targeted in an advertising boycott over several sexual harassment claims, shortly before he went on holiday never to return.