US academic Ted Malloch will not be EU envoy - US officials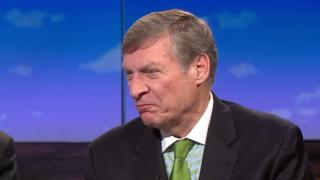 A controversial academic once tipped to be US President Donald Trump's choice as envoy to the EU, is not in the running for the post, US officials say.
Ted Malloch never was a candidate, White House officials have told US media.
His possible appointment, first reported in January, had sent alarm bells ringing in Brussels.
Mr Malloch has been critical of the EU, previously comparing it to the former Soviet Union.
Earlier this year, he told the BBC he had talked with Mr Trump about the role of EU ambassador, but told presenter Andrew Neil: "It can't be confirmed until it comes from his mouth."
However, a White House official told the Wall Street Journal Mr Malloch was never considered for any post and had never served in any capacity for President Trump's campaign.
The US State Department also confirmed that he was not a candidate.
Mr Malloch, who has held posts at Oxford University and at Henley Business School in the UK, has been a vocal critic of the euro common currency and of European Commission President Jean-Claude Juncker.
European Parliament leaders said in February that his views on the dissolution of the EU revealed "outrageous malevolence" and that he should be declared "persona non grata".