Trump hotel guest arrested for 'guns and ammo in car'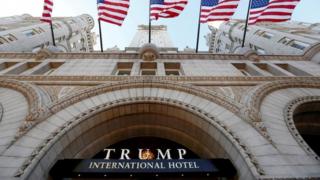 Washington DC police have arrested a guest at the city's Trump International Hotel after guns and ammunition were found in his car.
Bryan Moles, 43, was detained in his hotel room only blocks from the White House at around 01:00 local time (05:00 GMT) on Wednesday, say police.
A search of his vehicle in the hotel car park found a Glock handgun, a Bushmaster rifle and 90 rounds.
He reportedly told police he is a fan of the president.
Chief of Police Peter Newsham told reporters on Wednesday that the suspect was arrested after a tip-off to Pennsylvania State Police.
They contacted the US Secret Service and Washington police to say they had been told Mr Moles would be travelling to the nation's capital with weapons.
Mr Newsham pledged a thorough investigation to determine the suspect's motive, saying he was "very concerned about this very peculiar circumstance".
He added that Mr Moles has been speaking with investigators, and "doesn't have a really good reason for being here".
His car, which was parked near a valet attendant at the hotel, contained a gun in plain view, according to officials.
The US Secret Service said that "at no time were any Secret Service protectees at risk".
WJLA-TV in Washington reports that Mr Moles had told officers that he is a military veteran suffering from post-traumatic depression.
He reportedly said he was staying in the hotel because he likes President Donald Trump.
However, Washington police did not discuss Mr Mole's military record or political leanings at the press conference.
In a statement, Trump International Hotel said: "We take the safety and security of guests very seriously. It is our first priority.
"This morning, the authorities arrested a guest who was behaving suspiciously.
"The matter is under investigation therefore it would be inappropriate for us to provide additional details."