Is Serena Williams having a girl? Venus thinks so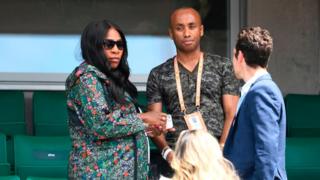 Pregnant tennis ace Serena Williams is keeping the world guessing over the sex of her baby.
On Wednesday, her sister Venus appeared to have accidentally given the news away during a post-match interview at the French Open.
She referred to the baby as "she", and listed a series of potential female names.
But Serena responded to fans' ripple of excitement by tweeting that she likes a surprise.
She said she had been joking with her sisters about naming the baby after them.
Serena's baby, with fiancé and Reddit co-founder Alexis Ohanian, is due in the autumn.
Venus had told a Eurosport presenter that she and her other sisters - Lyndrea and Isha - refer to the baby using their own names.
But in a good-humoured tweet, Serena said this was all part of a technique she uses when looking to her siblings for favours.
"If I want something from my sisters, I say baby Venus, baby Lyn or baby Isha needs it. I did not grow up with any brothers, only sisters, and we all say 'she' more than 'he'," she said. "Unless I am joking with my Dad or Alexis, and I'm trying to get something out of them too."
Venus made the slip during a television interview on Wednesday after winning against Japan's Kurumi Nara in Paris, a match her sister came to watch.
"She is going to call me favourite aunt," Venus told the Eurosport presenter, laughing.
You might also be interested in:
People leapt on her words as the family does not have a good track record with secrets.
Last month, Serena admitted she revealed her pregnancy news to the world by accident, after mistakenly uploading a photograph on Snapchat.
The 23-time Grand Slam winner posted a picture on the social media app, posing in a mirror with the message: "20 weeks", before deleting it, with her publicist later confirming the news.
"I was just saving them [for myself]" she said. "I've been so good about it, but this was the one time it slipped."