Trump Russia: The saga in 350 words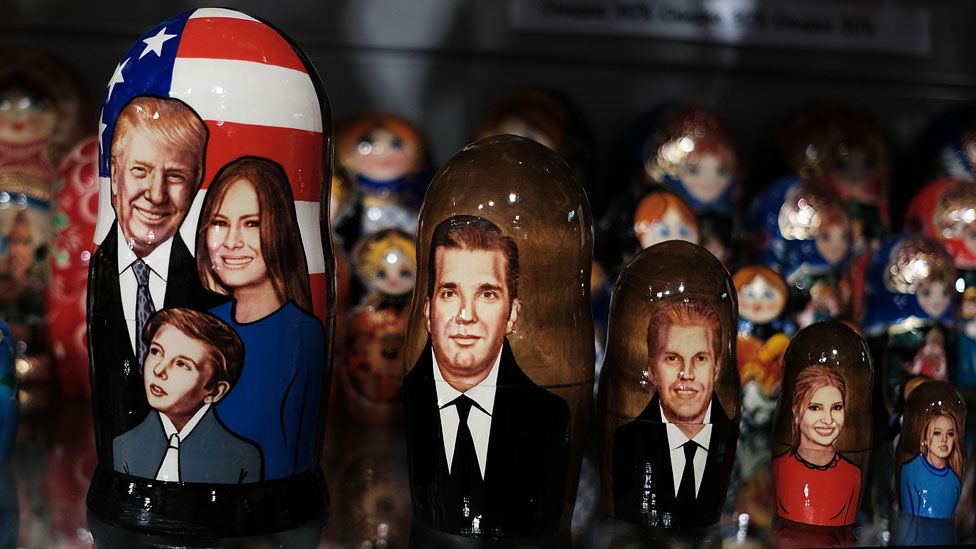 It's the story that has dominated Donald Trump's presidency. But it's complicated. Let's take a step back.
US intelligence agencies believe Russia tried to sway the election in favour of Mr Trump. A special counsel looked into whether anyone from his campaign colluded in the effort.
After two years, we have a 448-page report in which the special counsel finds no evidence the campaign conspired with Russia.
No, Robert Mueller also looked at 10 instances where the president obstructed justice. But he was unable to decide whether they amounted to a crime. His report also found that the Russian government did interfere in the election.
So a good day for the president?
Not really. We found out he tried to fire Mr Mueller. He had called it a witch hunt from the start.
No. It was conducted by the hugely respected Mr Mueller, a Republican who used to run the FBI.
There were several meetings between senior members of Mr Trump's team with Russian officials. Several meetings were not initially disclosed.
Ex-National Security Adviser Michael Flynn lied to the FBI about meeting the Russian ambassador to the US before Mr Trump took office.
The president's son, Donald Jr, met a Russian lawyer who said she had "dirt" on Hillary Clinton during the campaign.
What else did Mr Mueller look at?
He brought charges against several of Mr Trump's inner circle.
Ex-adviser Roger Stone has been charged with lying to Congress about his contacts with Wikileaks, which released emails belonging to Democratic officials that had allegedly been hacked by Russians.
Mr Trump's former lawyer Michael Cohen admitted lying to Congress, campaign finance violations and tax evasion and received a 36-month prison sentence.
And former campaign chairman Paul Manafort lied to the FBI about his work in Ukraine, according to special counsel Robert Mueller, with whom he had been co-operating. Manafort has been jailed for bank fraud.
Since he fired the man leading one of the investigations, ex-FBI Director James Comey, there were questions about whether he obstructed justice.