Trump opponents and supporters in Portland face off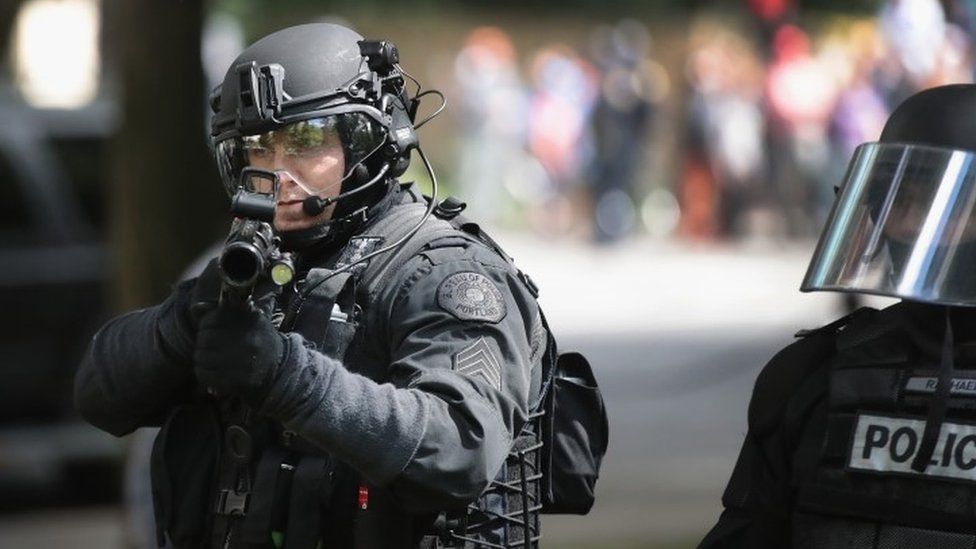 Opponents and supporters of US President Donald Trump were kept apart by police during twin demonstrations in Portland, Oregon.
Hundreds of "Trump Free Speech Rally" demonstrators were confronted by a far larger gathering of counter protesters.
The stand-off came amid tensions in the city over the fatal stabbing on a train of two men who tried to help teenagers apparently targeted by racial abuse.
A suspect, Jeremy Joseph Christian, is accused of murder.
The 35-year-old is due to appear in court on Wednesday.
Sunday's rival demonstrations were at one point separated by police using pepper spray outside Portland's city hall.
Anti-Trump protesters waved "Antifascist Action" flags and chanted "Nazis, go home"!
The confrontation was mostly peaceful, although bottle and brick were thrown, police said.
At least 14 people were arrested, mostly those taking part in the anti-Trump protest.
The president tweeted last week that the stabbing attacks were "unacceptable".
The attack unfolded on 26 May after Mr Christian allegedly spewed "hate speech" towards two young women on a train, police said.
Taliesin Namkai-Meche, 23, and Ricky Best, 53, intervened and were fatally stabbed, investigators said.
Another man, Micah David-Cole Fletcher, was slashed in the neck and is recovering.
Destinee Mangum, 16, said she had been with a friend wearing a hijab on the first night of Ramadan - Islam's holiest month - when the suspect targeted them.
Ricky John Best, 53, was a veteran of the US Army and had four children. His eldest son, Eric Best, told CBS News that he was not surprised to hear of his father's actions.
Taliesin Myrddin Namkai-Meche, 23, had recently graduated with an economics degree and was on an internship with a consultancy firm. He also studied an introduction to Islam course, and his professor said he wanted to understand how others saw the world.
Micah David-Cole Fletcher, 21, won a poetry slam in 2013 with a piece about the prejudices faced by minorities, including Muslim Americans. "I mean, after all, where does prevention stop and where does protection begin?" he said in the performance, which can be seen on YouTube.