Trumplomacy: Should Trump be patting himself on the back over Qatar?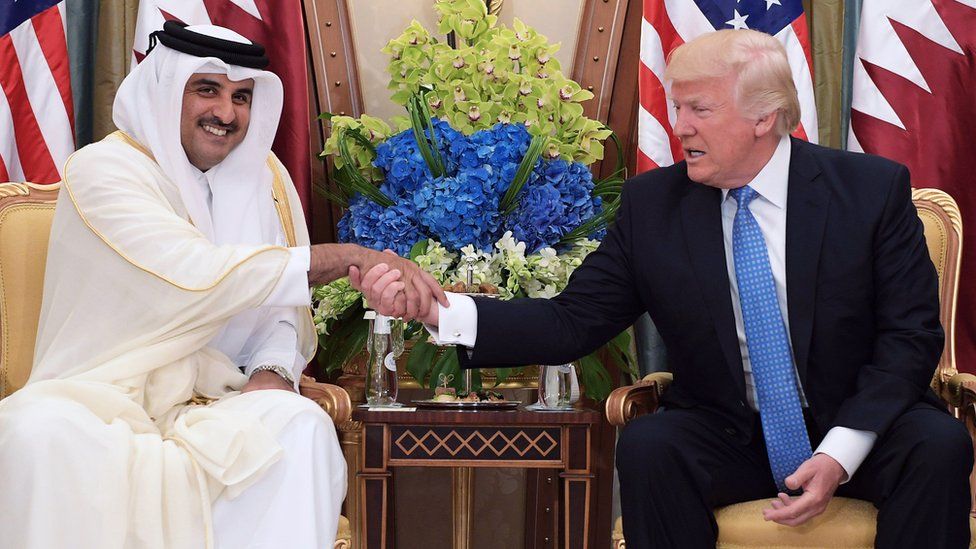 In the sledgehammer world of Twitter diplomacy, President Donald Trump has struck a blow to the carefully crafted House of Cards that is Middle East policy.
Not only did he take sides in a deep and longstanding rift in the Arab world, he took some credit for it.
According to @realDonaldTrump, the president's recent visit to Saudi Arabia paid off with a harder line against extremist funding, rightly directed at Qatar.
In other words, he'd inspired an unprecedented decision by Arab allies to cut ties with another American ally whom they accuse of supporting terrorism.
First of all, to what degree should Mr Trump be patting himself on the back?
It's true the diplomatic breach is a huge escalation, but it's based on longstanding tensions.
Saudi Arabia, the United Arab Emirates, Bahrain and Egypt are angered by Qatar's support for Islamist movements such as the Muslim Brotherhood, which they see as a political threat; annoyed by Doha's brash satellite channel Al Jazeera; and convinced it's open to backing the agenda of Iran, their regional rival.
That suspicion reportedly exploded into fury recently when Doha paid a huge ransom to secure the release of Qatari royal family members kidnapped in southern Iraq by Shia militias connected to Iran.
Much of the money is believed to have made its way to Tehran. It was "the straw that broke the camel's back", one Gulf observer told the Financial Times.
Nevertheless, President Trump's forceful affirmation of Saudi positions during his recent trip, especially its stance against Iran, may have emboldened the kingdom to cut Qatar off.
At any rate, Riyadh was confident enough to give the US a heads-up only just before it made the announcement, blindsiding officials here.
To be clear, when it comes to terrorist financing, nobody's hands are clean: the Qataris, Saudis and Kuwaitis have all funded extremists in the Syria conflict.
All have pulled back from that under US pressure. But Qatar's dealings are arguably murkier than the others because it likes to see itself as a neutral player that can act as an intermediary, and is thus willing to play both sides.
And to be sure, the US has concerns about Qatari behaviour.
So it is a nuanced relationship, not least because Qatar hosts America's biggest airbase in the Middle East - the nerve centre of its air war against the Islamic State group - to which Doha has contributed billions of dollars.
Which has left the Pentagon, and especially the State Department, in an awkward position: they are accustomed to working in shades of grey rather than the merciless black and white of 140 characters.
Spokespeople didn't reject or affirm the president's tweets. Instead, they pulled out traditional talking points.
Heather Nauert at the State Department praised Qatar's continuing efforts to stop the financing of terrorist groups, but said there was more work to do.
The Pentagon renewed praise of Qatar for hosting US forces, and lauded Doha's "enduring commitment to regional security".
It said the feud hadn't affected military operations, but presumably it could if it goes on for too long, and even the White House was calling for a truce.
"The US still wants to see this issue de-escalated and resolved immediately," said spokesman Sean Spicer, at the same time defending the president's use of social media to speak "straight to the American people".
The State Department, though, wants to change the subject.
"Let's move off from this social media thing," Ms Nauert told journalists peppering her with questions about the impact of Twitter diplomacy.
Tell that to the president.
Are you due to fly to or from Qatar? Will you be affected by the disruption? Let us know by emailing haveyoursay@bbc.co.uk
You can also contact us in the following ways: