'Body slam' Republican congressman Gianforte to plead guilty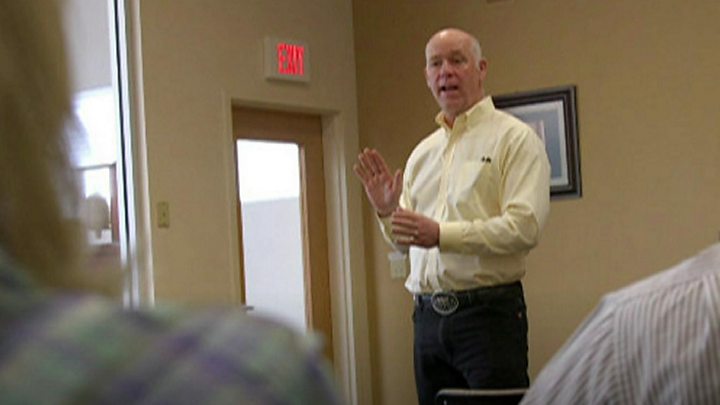 A Montana congressman who "body slammed" a journalist is intending to plead guilty to assault next week, the state's attorney has said.
Greg Gianforte is accused of attacking a reporter from the UK's Guardian newspaper a day before his election.
He has donated $50,000 (£38,000) to the Committee to Protect Journalists (CPJ) as part of an apology.
Mr Gianforte will plead guilty on Monday to a criminal charge of misdemeanour assault, AP reports.
It carries a maximum penalty is a $500 fine and a six-month jail term.
Gallatin county attorney Marty Lambert told AP the congressman had requested the court hearing after reaching a civil settlement this week.
Alicia Acuna, a reporter from Fox News who witnessed the attack, said Mr Gianforte grabbed reporter Ben Jacobs by the neck with both hands and slammed him into the ground", before he began "punching" Mr Jacobs.
The politician had initially claimed Mr Jacobs had grabbed his wrist, pulling them both to the ground. His spokesperson called it "aggressive behaviour from a liberal journalist".
But in his formal apology to Mr Jacobs on Wednesday, he said: "Notwithstanding anyone's statements to the contrary, you did not initiate any physical contact with me, and I had no right to assault you. I am sorry for what I did and the unwanted notoriety this has created for you.
"I take full responsibility," he added.
Mr Gianforte won the special congressional election in Montana, just hours after he was charged with assault.
The multimillionaire technology executive and Christian conservative beat Democrat Rob Quist, a banjo-playing folk singer, to fill an empty seat in the House of Representatives.
In a victory speech Mr Gianforte said he had "learned a lesson" and was "sorry".
President Donald Trump praised the victory during an official trip to Italy, calling it a "great win in Montana".