Severed human cocktail toe stolen from Yukon hotel pub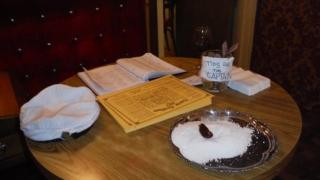 A barman in Canada's Yukon Territory is furious that the key ingredient to the famed "Sourtoe Cocktail" - a mummified human toe - has been stolen.
The severed toe, served in alcoholic drinks at the Downtown Hotel in Dawson City, was stolen by a Quebec resident, according to "Toe Captain" Terry Lee.
"Toes are very hard to come by," Mr Lee said. "I'm really attached to it."
The toe is estimated to be worth CA$80,000 (US$60,000 / £48,000) and is part of local folklore.
For over four decades, tourists and residents have been able to order an alcoholic cocktail of their choice served with a desiccated human toe floating inside.
It's traditionally served with Yukon Gold whiskey, and must touch the drinkers' lips in order to earn a certificate from the bar.
A local saying goes: "You can drink it fast, you can drink it slow, but your lips must touch the toe."
More than 70,000 people have tasted it.
There are several back-up toes available but bar staff say this was their newest and freshest.
"This was our new toe, and it was a really good one. We just started using it this weekend," hotel manager Geri Coulbourne told CBC News.
It was donated by a man who had it amputated, and placed in salt to cure for six months.
It is "an institution in Dawson," Mr Lee said. "When someone frigs around with it, there goes our institution."
At least eight toes have gone missing since the tradition first began in 1973 when Yukon riverboat captain Dick Stevenson discovered a preserved toe in an abandoned cabin.
It has been swallowed twice since then but consuming it is discouraged and the pub fines culprits.
Police are investigating the crime as a theft.