Quick-thinking theme park rescuers save falling US teenager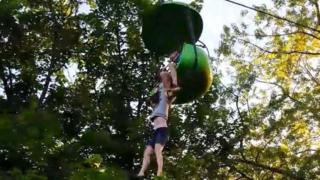 Visitors to a New York theme park have dramatically rescued a terrified teenaged girl who spent more than a minute dangling 7.5m (25ft) in the air from a chair lift.
Witness Loren Lent told the BBC that a group of bystanders had formed a circle and caught the girl as she fell.
Mr Lent said the teenager would have been killed or seriously injured but for their quick thinking.
He said it was not clear why the girl was so eager to escape the chair lift.
"I have no idea," he said. "She may have panicked, she may have had a seizure or she may have been terrified by bees that were known to have been in the area.
"All I can say though is that the actions of these people prevented what could have been a very nasty accident."
One of the catchers is reported by local media to have hurt his back during the operation on Saturday, in which rescuers had to persuade the 14-year-old to let go of the chair lift and drop into their arms.