Bernie Sanders slams 'pathetic' fraud claim against his wife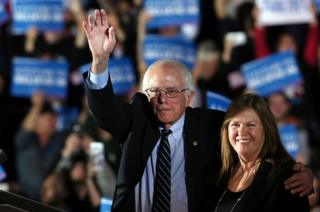 Ex-Democratic presidential candidate Bernie Sanders has lashed out at claims his wife committed bank fraud.
The FBI is reportedly investigating whether Jane Sanders lied to financiers while securing a loan for a college which she led.
Mr Sanders told CNN: "It's a sad state of affairs in America when not only we have politicians being destroyed, but when you go after people's wives.
The couple are understood to have hired high-profile Washington lawyers.
Mr Sanders, a senator for Vermont, has previously called the inquiry politically motivated.
The FBI investigation stems from a January 2016 complaint by Brady Toensing, who was chairman of the Trump campaign in Vermont.
Mr Toensing suggested that Jane Sanders had lied about having enough donor support to repay a $10m (£7.7m) loan to buy land to expand Burlington College, where she served as president.
The Republican lawyer also claimed Mr Sanders' office convinced the bank to lend the funds.
Mrs Sanders' seven-year tenure at the liberal arts school ended in 2011. It closed in 2016 after struggling to make the repayments.
Mr Sanders told CNN presenter Erin Burnett on Tuesday: "When she came to that college, it was failing financially and academically.
"When she left it, it was in better shape.
"Five years later, just at the moment - coincidentally, no doubt - when I am a candidate for president of the United States, Donald Trump's campaign manager, vice-chairman of the Republican Party in Vermont, launched this investigation," he added.
Mr Sanders refused to even confirm there is an investigation, concluding the interview: "I think it's pathetic that when people are involved in public life, it's not only they get attacked, but it is their wives and their families that get attacked.
"That's what this is about."
He insisted his "wife is about the most honest person I know".
The self-proclaimed socialist electrified young progressives in the 2016 presidential election, but Hillary Clinton beat him to the Democratic White House nomination.