Russia spies' son wins Canada citizenship case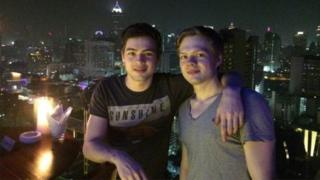 The son of two Russian agents has won a long battle to regain his Canadian citizenship.
Alexander Vavilov was born in Canada in 1994 to parents living secretly under assumed names as spies. Their real identities were discovered in 2010.
In 2014, he learned his citizenship had been stripped on the grounds his parents were employees of a foreign government when he was born.
He has been fighting to restore his citizenship since.
Toronto-born brothers Alexander and Timothy Vavilov both believe their Canadian citizenships are their birthright despite the fact their parents' were undercover Russian agents.
Alexander's win this month in a Canadian federal appeals court applies to both brothers.
The case dates back to June 2010, when armed FBI agents entered their Boston-area family home and arrested the parents.
Their parents had stolen the identities of two deceased Canadians - Donald Heathfield and Tracey Ann Foley. When both boys were born they were living and working in Canada under those names, with fraudulently obtained government-issued passports.
In 1995, the family moved to France and to the United States in 1999.
Following the arrest, and to the surprise of their two sons, the couple admitted their real names were Andrey Bezrukov and Elena Vavilova and that they were Russian citizens and spies.
They had established seemingly legitimate alternative lives, but had been taking direction from Russian intelligence operatives all along.
Bezrukov and Vavilova were arrested along with eight other individuals, including Russian spy Anna Chapman, now the most well-known of those picked up by US authorities in the sweep.
The 10 pleaded guilty in US federal court in July 2010 to "conspiring to serve as unlawful agents of the Russian Federation within the United States", and were sent back to Russia in the biggest spy swap with that country since the Cold War.
Bezrukov and Vavilova's sons also ended up back in Russia, where they amended their family name from Foley to Vavilov.
After repeated attempts to renew his Canadian passport, in 2014 Canadian officials told Alexander Vavilov his citizenship had been revoked.
The decision was based on the fact that Mr Vavilov's parents were employees of a foreign government and not lawful Canadian citizens at the time of his birth.
That ruling was upheld by a Federal Court in 2015.
This month, an appellate court overturned the decision and restored his citizenship.
His lawyer, Hadayt Nazami, said on Wednesday that both brothers "are really happy" with the decision. Alexander has been living in Europe and Timothy in Asia.
"It's been really hard for them," he said. "They've done everything in their power to spend as little time in Russia as possible."
The Canadian government has 30 days from the court ruling to decide whether to appeal the case to the Supreme Court.